Epic Video Arrives Ahead of the Batman Arkham Knight
Video game developer Rocksteady Studios and publisher Warner Brothers Interactive Entertainment are giving Xbox One and PS3 players another detailed look at what they can expect in a new Batman Arkham Knight gameplay video released this week.
The new Batman Arkham Knight video appeared on video site YouTube and a few other places just yesterday. Rocksteady doesn't water-down or edit out any of the action, making the video a perfect representation of what players can expect when they pick up their copies of Batman Arkham Knight on June 23rd, even if it doesn't reveal absolutely everything.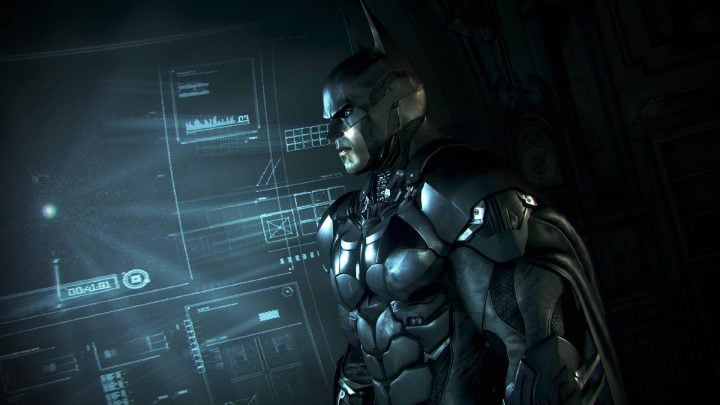 This particular section in the game is from a mission involving a key Batman rival, Poison Ivy. Having been held captive after refusing to work with Scarecrow and the Arkham Knight to bring Gotham to its knees, the player tracks where she is. There's roughly a minute of just gliding in the new gameplay trailer, which is important because diving and gliding without touching the ground is still a core mechanic in this game it seems.
Read: More Exciting Batman Arkham Knight Details Arrive
After locating where Poison Ivy is being held, the player in the new  Batman Arkham Knight gameplay video doesn't waste any time at all going after the mercenaries threatening her. Instead of infiltrating the building, he glides over to the skylight and crashes through it. It's another two to three minutes of fighting as the player uses gadgets, batarangs and new combos to deliver blow after blow. In all, the person in the gameplay video racks up an incredible 50 hit combo, making use of moves both new and old.
Batman: Arkham Asylum, the game that kicked off the franchise, only allowed players to glide in a controlled manner. Batman: Arkham City, Rocksteady's previous game in the series, adding grappling and diving so that players could gain some speed as they try to go glide longer distances without having to touch the ground. Batman Arkham Knight is the first game in the series to allow users to pilot the Batmobile. In this gameplay video Batman calls up the famed vehicle, loading up a dangerous Poison Ivy for transport to the nearest Gotham City Police Department lock up.
Before the player can make it to that lockup tanks and armored vehicles move in on Gotham City, forcing the Gotham Police Department to abandon the streets. It's at this point that we see the Batmobile's two modes in action. There's a standard mode that just allows players to get around Gotham City as fast as they can. When they're threatened by serious firepower — like these tanks — is when it's time to go into a sort-of attack mode. In this mode the Batmobile's wheels change angles, allowing players to move from left to right just as effectively as moving forward and reverse is. A mix of firepower allows the player to easily deal with the mercenaries and their armored vehicles.
Batman successfully delivers Poison Ivy to the Gotham City Police Department where the authorities are obliged to put her in an isolation chamber so that she can't escape.
Though it doesn't include everything we can expect, this Batman Arkham Knight footage is probably the best sampler of the game we've seen yet. At the very least, it provides a quick way to tell if you'll be interested in the game or not. Batman Arkham Knight isn't just an adventure game at this point. It's morphed into a power fantasy set within a huge world. In fact, it seems to have more in common with Grand Theft Auto 5 than it does the very first Batman Arkham game.
Batman Arkham Knight is available for pre-order right now ahead of its June 23rd release. A basic copy of the game costs $60, but completionists will want to pick up the Batman Arkham Knight bundle that includes complete access to the game's forthcoming digital content. That season pass is another $40 separately or $100 together.

This article may contain affiliate links. Click here for more details.