Epson Moverio BT-200 Is Google Glass for Both Eyes
Epson is mostly well-known for its printers, but the company has been dabbling in wearable devices for some time now. Here at CES 2014, Epson is showing off the second-generation of its Moverio smartglasses, officially dubbed Moverio BT-200.
These glasses could essentially be compared to Google Glass, but instead of having the single display for one eye, Epson's Moverio uses a binocular display so that both eyes are put to good use. The display appears in the middle of your field of view and is just slightly transparent so that you can still see what's happening in front of you.
Some of the biggest differences between the BT-200 and the current-generation BT-100 is that this newer version is a lot lighter and sports a much-sleeker design than the first-generation.
The glasses are very similar to the Oculus Rift virtual reality headset, where head-tracking plays a huge role in the experience of the Moverio. Moving your head around will also move the displayed image around as well. We ended up playing a game on the glasses where you shoot down incoming aliens with rockets, and to aim you move your head around to put the crosshairs on incoming alien ships.
A connected touchpad controller lets you move around a cursor in navigation menus and also acts as a controller in the alien game we were playing, with a double-click acting as the trigger to shoot rockets.
Epson says you'll be able to do a lot more with the Moverio, like watch YouTube videos and stream movies and TV shows to it from a separate device.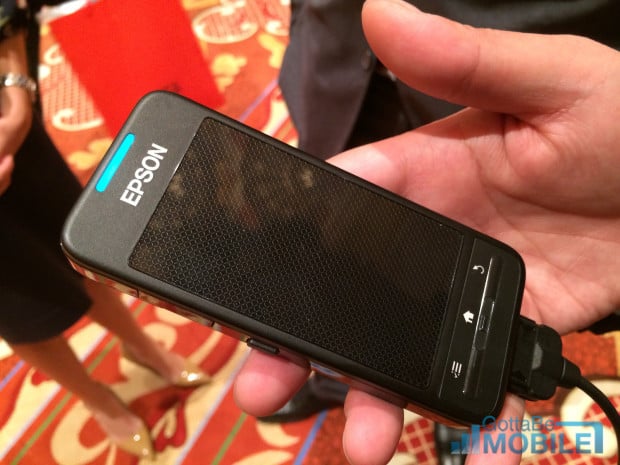 The Moverio BT-200 smartglasses will be available at some point in March with a price tag of $699.99. Pre-orders are going on now, so be sure to get yours in if you're wanting a piece of technology that will make you look just slightly silly.