eReader Price Wars: Amazon Drops Kindle to $189 to Undercut $199 Nook
Amazon's chopped $70 off the Kindle's price tag to compete to come in $10 cheaper than the Barnes and Noble Nook 3G + Wi-Fi's new $199 price tag. A Wi-Fi only version of the Nook is available for $149.  This may be just the beginning of an eReader price war.
While the iPad has taken much of the wind out of eReaders' sales in recent months, the Kindle and Nook are still drawing a lot of interest. The devices may not have all of the capabilities of the iPad, but  they do serve book enthusiasts well. My mother is one reader that that won't be trading in her Kindle DX for an iPad any time soon. She enjoys her Kindle's display, long battery life and WhisperNet connection.
Amazon's price drop is clearly a reaction to the Nook's new lower price. If Amazon and B&N start battling, consumers could see full featured sub- $100 eReaders by Christmas. If things really heat up, one or both of these companies could offer free eReaders much sooner than any of us expected.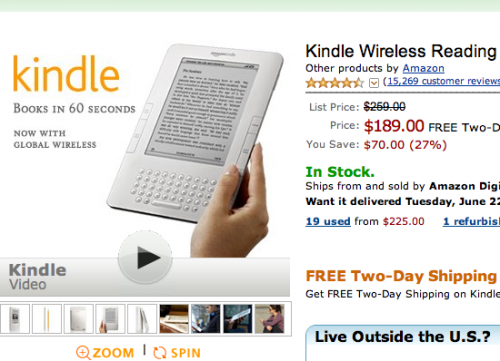 While B&N and Amazon would of course like you to fork over as much money as possible for the device, the real money is in the digital goods that eReader owners buy on a regular basis. The devices act as a digital cash register that's pre-loaded with your credit card info.  Amazon in particular has an incentive to provide easier access to its immense warehouse of  both physical and digital goods.
Barnes and Noble offers a Wi-Fi only nook for just $149. I personally don't care for the Nook all that much after having some hands-on experience with it, but it is pretty amazing that such a device exists for under $150.
Earlier this year there were rumors that Amazon would begin offering free Kindles to its Amazon Prime subscribers. I wouldn't be surprised if one or more major publishers partnered with Amazon to provide complimentary Kindles with premium subscriptions.
It's pretty incredible that we now live in an age where 3G connected devices cost less than $200 and don't require a subscription.
I can't justify a purchase of a Kindle even at $149, but I sure wouldn't mind it if Amazon sent one my way. I'd probably be suckered into buying more books than I would read.

As an Amazon Associate I earn from qualifying purchases.