Ergotron WorkFit-P Sit-Stand Workstation
The sedentary lifestyle of most computer users continues to produce an unhealthy workforce, but the Ergotron WorkFit-P Sit-Stand Workstation can help reverse the trend. Ergotron's standing desks put people on their feet, helping them become more fit through burning calories and straightening curved spines that suffer the stress of sitting all day. Thanks to this workstation, a user can stand part of the day and sit part of the day to break up the monotony.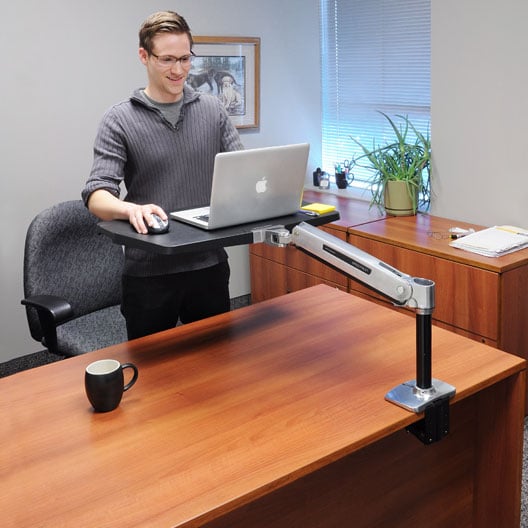 Here's our demo video of the Ergotron WorkFit-P Sit-Stand Workstation.
The Ergotron WorkFit-P Sit-Stand Workstation ($259) takes some assembly, but comes with decent assembly directions. The system attaches to an existing desk, bookshelf or other strong piece of office furniture.
The workstation offers two methods of attaching to the desk. One clamps to a firm but thin surface. The other attaches more permanently through a hole in the top of the desk.
The benefit of the clamping system comes when the user wants to put the WorkFit on another piece of furniture. Some surfaces come with a surface that's uneven underneath, so the package also comes with hardware to attach to a desk permanently by drilling through the desk. This takes more work, but lets the user attach it to a greater variety of objects.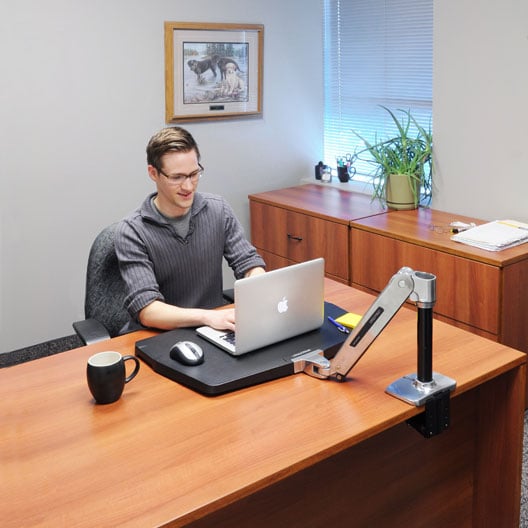 The system installs easily enough when using the clamp. We hooked it up to a sturdy keyboard drawer, but it's not strong enough to hold it well enough. The platform keeps bouncing with even a little movement, so get a very strong surface to attach the system. We plan to get a sturdy bookshelf to hold it permanently.
The system offers the ability to swivel horizontally 360-degrees. A person could install it on the back of a desk to use standing behind or in front of the desk or sitting in front. It also raises or lowers 20-degrees or 51cm so someone can stand and sit at the desk. It will hold up to 15 pounds without bouncing too much if its installed on something sturdy.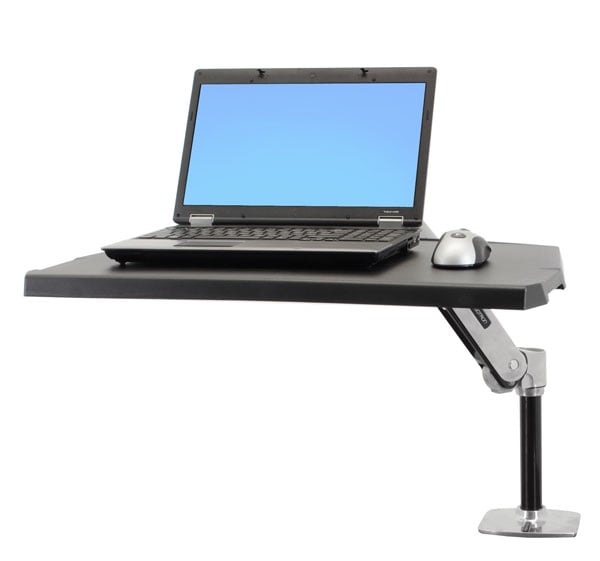 We really like the Ergotron WorkFit-P Sit-Stand Workstation. It helps make people more active even though they're just working at a computer or desk all day. The savings in medical bills, from a bad back or combatting weight issues, will make the $259 price tag seem small by comparison.
The company offers an extension arm for people who need a longer reach over a very deep desk. The extension adds $59 to the price. There's also a version they market for Apple users with an aluminum surface instead of the hard black plastic on the one reviewed here. It costs $329.

As an Amazon Associate I earn from qualifying purchases.