ESPN Chooses Money Over Users with Mobile Apps
Earlier today, Gawker reported on an extremely shady move by ESPN as far as its ESPN Radio app is concerned. ESPN will be introducing a new and improved ESPN Radio application for $4.99. However, it will be closing up shop on its aging ESPN Radio app that it launched back in 2009.
That wouldn't be a problem if customers hadn't been paying $2.99 for access to the feeds. Customers who paid that $2.99 are being told that their feeds will be killed and they will have to pay the $4.99 for the new app if they wish to listen to ESPN Radio.
DeadSpin's John Koblin writes:
It's just a small amount of money, sure, but it apparently hasn't instilled much goodwill among its base. The unpopularity isn't limited to folks we've heard from, either. The new app has nearly 1,500 reviews in iTunes. It has a dreadful one-star rating.
Well, I'm here to let you know that the ESPN Radio application isn't the only ESPN application that is turning fans away.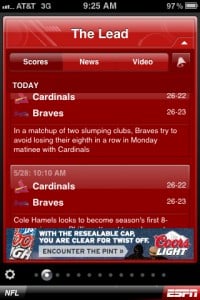 I am a longtime ESPN listener, watcher, reader. One of the first applications I installed on my iPhone and iPad was ESPN's ScoreCenter and ScoreCenter XL for the iPad.
Until the end of last year, the experience on the iPhone was a good one. I read stories, watched highlights and followed games.
Until March, I had an equally good experience on my iPad 2. The app ran smoothly, I was able to enjoy highlights on the big screen and it became one of my go-to applications on Apple's tablet.
Fast forward to present day and I am on the verge of uninstalling both of these applications.
Starting with the iPhone application, the experience has gone from pretty good to bad to terrible pretty fast. Sure, the app has always had a few bugs but ESPN seemed to have eradicated them. And then, the app, for whatever reason, decided to become terrible, seemingly on its own.
Often, the lead photo doesn't match up with the headline. Videos sometimes don't load. I'm sometimes greeted with three headlines, other times I have what seems like 500 to read. Translation: It's a jumbled mess.
As for the iPad version, the app still runs nicely on the iPad 2 but the experience on the new iPad is nothing short of a disaster.
When I load into the application, for whatever reason, ESPN has decided that I want to look at the NFL and the NFL only. I mean, I love the NFL, but I want to see other sports as well.
As far as I know, there is no way to change this and it's driving me towards insanity.
But that's not even the worst part. Nope. One of the reasons I got the new iPad was to watch sports highlights, specifically using this application.
However, I can only do that about half the time because I am usually greeted with a 'Cannot Load Movie' prompt or the videos just don't load at all.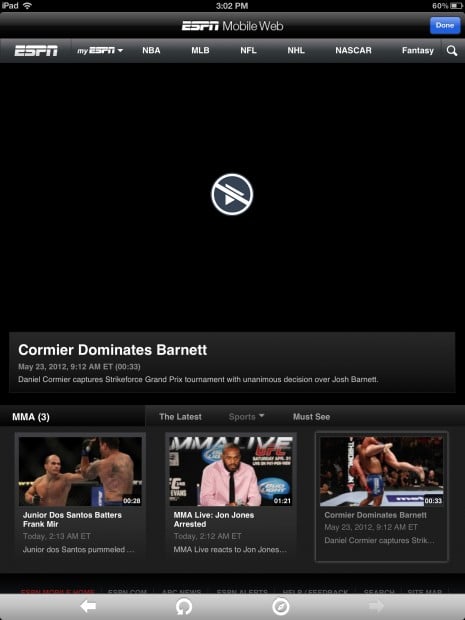 Apparently, ESPN doesn't think anything is wrong because it hasn't updated the application November 22nd, 2011. That's as bad as Verizon and the Samsung Galaxy Nexus update.
Now, you're probably wondering. Where does this tie into the shady cloud that's hovering over the ESPN Radio application?
These applications started to take a turn for the worse when ESPN updated them with a host of advertisements. At first, they weren't a problem. Then, they started taking up 90% of the videos that I watch.
Load up a video, a short video, and I guarantee at least a third of its is an ad. I've also gotten pop-up ads that I can't close so I have to restart the application and begin the madness all over again. I can deal with ads, but not when they completely destroy the experience of applications that once held lots of promise.
In an era where big, rich companies like ESPN and Facebook could be doing big things on mobile devices, they have instead decided to sour the experience because of money.
Read: Why Facebook Doesn't Love the Facebook Mobile Apps.
I'll argue that ESPN is even worse than Facebook. While Facebook's applications for the iPhone and iPad are both bad and free, they also aren't inundated with ads. Yet. ESPN's applications are both bad and free but are completely saturated with advertisements.
Throw in the fact that new ESPN Radio subscribers have no idea how long that $4.99 gets them and you now have a look at  ESPN's true character.
So, enjoy that one-star rating, ESPN.
You deserve it.

This article may contain affiliate links. Click here for more details.