Even Microsoft is Labeling Windows 8 as the New Vista
Adding insult to injury, it is reported that internal employees at Microsoft are dubbing Windows 8 as the new Vista, a slight to the operating system franchise.
Responding to an analyst question on whether or not it would be fair to call Windows 8 the new Vista, Paul Thurrott said on Twitter, "Call it what you want. That's what they call it inside of Microsoft."
Thurrott's comments suggest that though Microsoft has actively played up Windows 8 in marketing campaigns and promotional spots, the company is at least acknowledging that sales have not taken off as quickly as executives would have hoped for.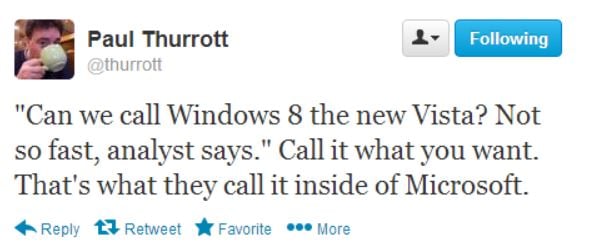 Sales are so bad for Windows 8 in fact that the platform is still not achieving the same level of sales as Windows Vista did at this point in the product cycle.
"It may not be selling as well as Vista," Thurrott mused on Twitter.
There are a number of things that are working against Windows 8 today that Windows Vista didn't have in the past. For one, mobile operating systems and devices are not only just getting better, but they're faster, more capable, and can challenge Windows in many key areas. Windows 8 is facing competition from Apple's iOS ecosystem on the iPad as well as Google's Android operating system on tablets, all-in-one PCs, and ultra-portable Chromebooks are also eating at traditional PC sales in this post-PC ecosystem. Devices from Samsung running Android, for example, are showing that simultaneous multitasking is still possible and productivity suites on smartphones show that a PC may not be needed for basic computing tasks.
Additionally, when Windows 8 debuted, it was plagued by concerns of usability. In addition to the classic desktop, Microsoft overlaid a separate home screen with Live Tiles, porting the Metro UI from Windows Phone to the desktop, that caused confusion with new users. The removal of the Start menu didn't help Microsoft's situation either, and Windows RT, with its more limited support of Metro apps on ARM CPUs created further confusion.
The situation may be so bad that Microsoft may even be trying to distance itself from the Windows 8 brand. It's reported that the company may preview some new features for the next generation of Windows OS, called Windows 9, this April at its annual BUILD developer conference.