Eventbrite Joins Square, PayPal Here With Own iPad Credit Card Reader
Eventbrite has just revealed a new credit card reader for the iPad that will allow event planners and organizers using the company's ticket system to collect ticketing payment offline and at the door where events occur. The company's system operates in a way similar to Square's credit card service for small business owners and PayPal's newly launched PayPal Here, which integrates with a triangular credit card dongle and app system.
The Eventbrite system is rectangular and will integrate with the 'At the Door' app for Apple iPad owners. Unlike Square and PayPal, Eventbrite doesn't intend on entering the credit card processing business for swipes of plastic cards not associated with its events at this time. The Eventbrite credit card system will merely allow organizers to accept payment for on-site walk-ins to events. In the past, organizers had to have attendees enter their credit card information onto the tablet manually, as if they were registering for the event at home on a desktop computer connected to the Internet.
The reason that Eventbrite chose to enter the credit card processing market is because existing services–like PayPal Here and Square–do not have open APIs that allows developers and partners–like Eventbrite–to create their own apps and ecosystem. One of the few services that offer APIs is VeriFone's PAYware Connect, but Eventbrite rejected that idea since it was not a good fit.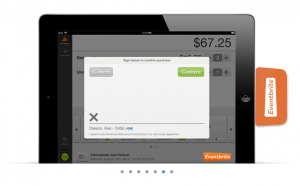 Eventbrite says that if Square or competitors offered open APIs in the future that allowed Eventbrite to offer organizers what they wanted, then the company would welcome using other services.
Organizers wishing to use Eventbrite's new service would have to order the new dongle, which retails for $10 but the charge is immediately credited back into the organizer's account. The cost of the dongle is comparable to what Square is charging. There is no service charge, and Eventbrite will collect 3 percent of every transaction, which is slightly higher than what Square and PayPal Here charge.
Via: Mashable