EverNote 1.5 Now Out of Beta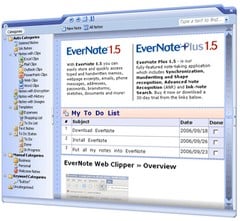 The good folks at Evernote have released EverNote 1.5. The new version of this notetaking tool inlcudes a host of new features. Some include:
Synchronize our your notes between PCs via USB (only in Evernote Plus)
New clipping functionality
New drag-and-drop functionality
Linking to notes from other applications
Send notes via IM
Open Multiple databases in separate windows
New spellchecker
As usual with Evernote there are multiple versions. There is a free version and a Plus version which inlcudes full functionality. There is also 30 day trail of the Plus version.
Evernote Download Page
Check out Rob Bushway's InkShow video review of the earlier version here.
Check out the discussion of EverNote 1.5 in the new GBM Forums.

As an Amazon Associate I earn from qualifying purchases.