Evernote 5 For iPhone and iPad Previewed in Video
Today Evernote unveiled the newest version of its iOS app which will come to iPhone, iPod touch, iPad, and iPad mini in the near future.
The new version, called Evernote 5, is an almost complete redesign of the Evernote app for iOS. Instead of the current UI with a menubar at the bottom of the screen that opens different parts of the app, the new Evernote uses a unique design with headers for sections and icons to easily add notes.
The idea behind the new design, according to the Evernote team, is anything in the app should never be more than two taps away. To make that possible, the header images for each section are always visible from the main screen, which appears like it's always just a tap or two away from any screen.
The main screen also has three icons for creating notes: one for typed notes, one for just pictures, and one for images with text like photos of the new Evernote Moleskine notebooks.
Evernote 5 will also make it easier to view content within sections of the apps. Each section will have multiple views and a search function to make it easy to find specific notes. The All Notes section will include the standard list and grid views from the current app.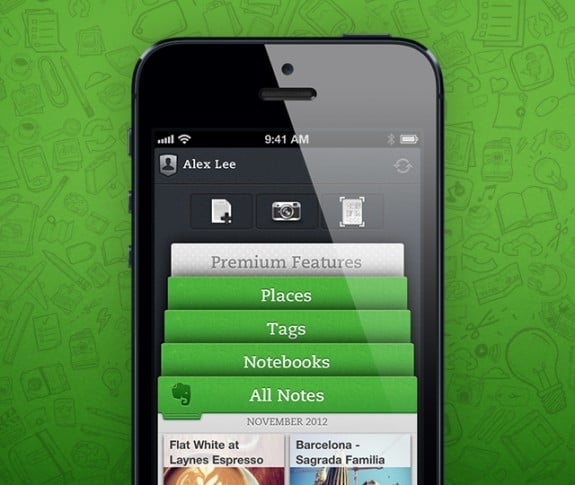 The Notebooks section is also enhanced to show either personal notebooks or notebooks that others shared with the user. The new Places view puts all of the users' notes on a map so they know where they were when they wrote each note.
On the iPad, Evernote 5 will also feature a recent notes section which will make it easy for users to quickly find their last used notes. It's a great feature for users who constantly have to reference multiple notes at once.
Evernote 5 will come to the App Store soon, and is free for all users. There is always a "Premium Features" header in the app, however, to encourage users to upgrade to a paid account.

As an Amazon Associate I earn from qualifying purchases.