Evernote and Eye-Fi Team Up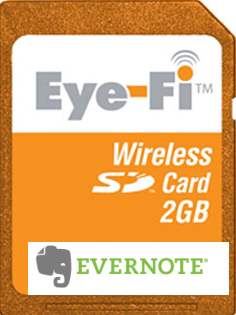 Speaking of imperfect technologies that I love, two of my favorites just announced that they were teaming up. You can now use an Eye-Fi card to send your pictures directly to Evernote. This service is launching today.
Essentially, if you have an Eye-Fi card in your camera and set up Evernote as a service you upload to, (you do this through the Eye-Fi web interface), then your pictures will end up in Evernote. Of course this needs to happen via Wi-Fi.
This is a great addition, but it does have some drawbacks. Just like with the other photo sharing services you can access via the Eye-Fi card, you can't select which pictures are going to sync up, they are all heading to that great Evernote cloud in the sky, unless you deselect that service ahead of time.
Depending on the type of account you have with Evernote you might need to watch how many photos you are trying to sync up. That said, I can see this being a boon in certain situations. Given that you can share Evernote notebooks this might work well for certain projects or events, but if you're just snapping away I'm not sure the utility is the same.

As an Amazon Associate I earn from qualifying purchases.