Evernote and Skitch Now Available As Dolphin Browser Add-ons
Users of Evernote and Skitch now have even more reasons to ditch the stock browser. Dolphin now has adds-ons for both apps which will integrate more of their functionality into the browser.
Power users will appreciate the ability to draw or scribble on web content and clip web pages easier.
And, since they're add-ons, you won't need to go into the Menu in order to access them, just drag the screen to reveal the right sidebar.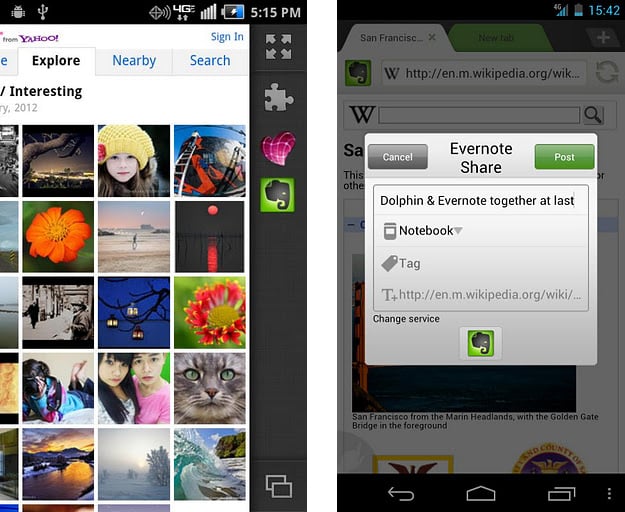 These add-ons don't replace the Skitch and Evernote apps themselves, so you still need to have them installed.
The Samsung Galaxy Note came to mind when I first saw this news as there are built-in apps on that phone/tiny tablet that do the same things. Even if your phone doesn't come with a fancy stylus, you can have a little Notetasticness in your life.
Dolphin is a popular browser around here and my favorite of all the browsers available for Android, partially because of the add-ons. I'm not a big fan of Evernote, preferring SpringPad for my note-taking needs. Skitch is a handy little app, especially when you need to take screenshots.
The team behind Dolphin Browser promises that more excellent and exciting add-ons are coming later this year. For now, the Evernote and Skitch add-ons are available via the Android Market.

As an Amazon Associate I earn from qualifying purchases.