Evernote Clipper For Chrome Updated with Focused Article Clipping
Evernote announced an update to the Evernote Clipper extension for Google Chrome today that adds a much more focused Article clipping feature as well as an updated look, better notifications and the ability to search your notes while you search Google, Bing or Yahoo.
The biggest news is the Article Clip mode which can detect the actual content you want to clip on blog posts and webpages automatically. This means you get faster clips and don't end up with a note full of extra text that can confuse searches. The Article Clip mode identifies the actual content and clips that to your Evernote Notebook. You can override the Article Clip mode by highlighting the text you want to clip, just like before. We've been using the new clipper for a day now and it is a big improvement over the previous Google Chrome Extension.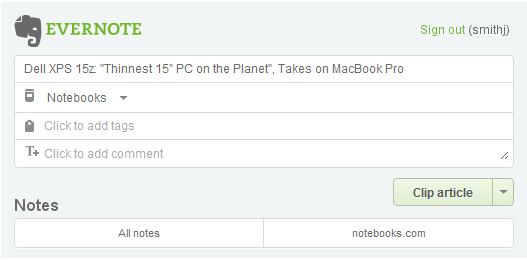 Evernote has also cleaned up the note clipping interface, for a more modern look that isn't as picky about tags as previous versions have been. The interface allows you to add tags and comments as well as change the notebook you are saving too. The new look keeps the ability to browse your notes and to see all the notes you have clipped from a specific site.
The update also enables the ability to search your Evernote notes from Bing and Yahoo, in addition to Google. This is handy for finding related notes when you are searching for something. You can control this in the settings, if you don't want to search your notes while searching the web.
Another improvement is the way that the Chrome Evernote extension will notify you of a page clip. If you are clipping a page with a lot of media files it can take some time. Now, the clipper will let you know when the clip is complete with a popup notification.
You can install the Evernote Chrome Web Clipper from the Chrome Extension Gallery. If you already have the Evernote Clipper installed it will automatically update, though you may need to restart Chrome to see the new version.