Evernote Digital Inking for Android App Now Out of Beta
Awhile back we reported that Evernote was going to bring digital inking back as a feature, at least in the Android version of the App. We also tested out the Beta and gave a short report on the features back then. Well, now Evernote digital inking is out of Beta and available in an updated version of the Android App. The digital inking feature works better with an Android device that is equipped with a stylus and a digitizer like the Samsung Galaxy line of Tablets and smartphones, but it now allows you to scribble a note with a stylus or your finger.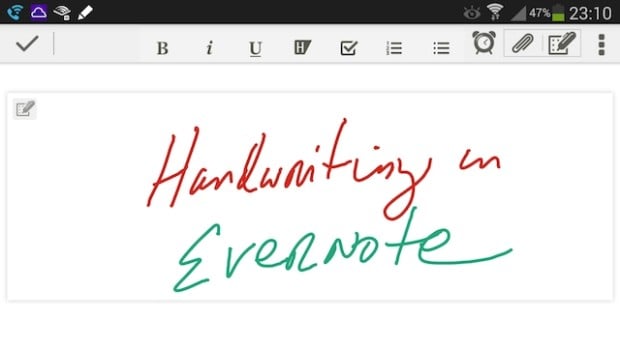 Long time fans of Evernote will remember that it was a favorite digital ink note taking App for the Tablet PC. Evernote's Ink note taking abilities made the application a favorite of many Tablet PC users. Since the demise of the Tablet PC, Evernote has moved on to other things and with the exception of some growth issues has become one of the most popular cross platform Apps for note takers. But digital inking was left behind. On the Android platform, that is no longer the case.
Once you open Evernote and go to create a new note, you'll see a Pen icon across the top menu. Note I am testing this on a Samsung Galaxy Note 3.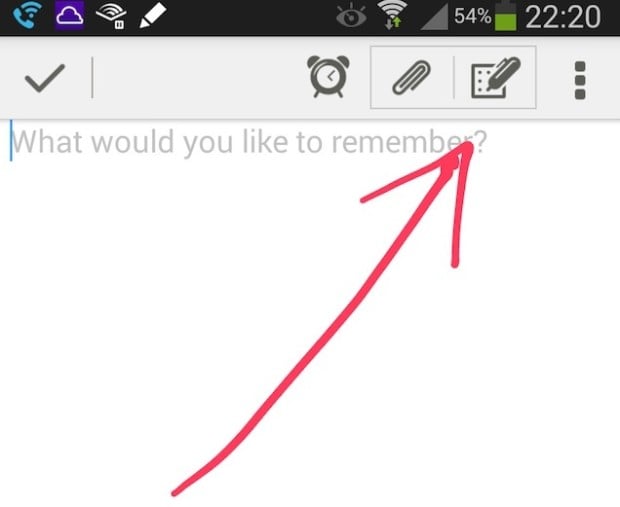 Once you tap to select that Pen you are presented with a new page with a graph background. The menu bar across the top of the page gives you options to choose from among four ink colors (black, blue, red, and green) as well as three choices of brush width.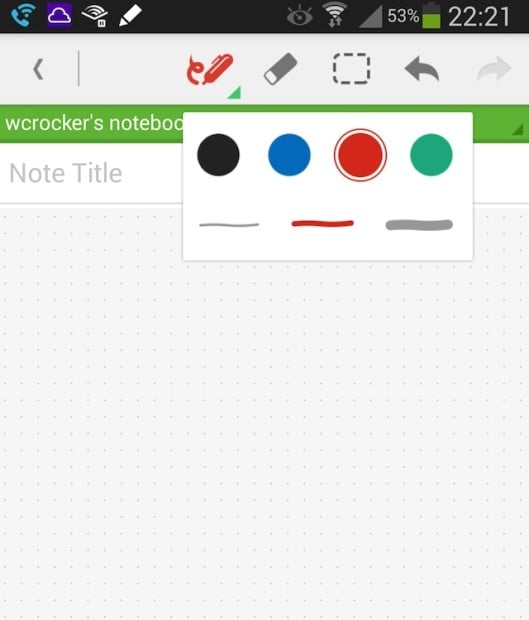 You also have an eraser and a Cut tool which allows you to lasso a section of your digital ink and move it around the page or rotate it. You can not resize what's inside this lassoed portion of the ink. Undo and Redo controls are also present.
As you fill a page with ink notes or a drawing you can move up or down a scrollable page with arrows that appear at the top or bottom of the screen. After filling a page with digital ink, tapping the down arrow turns it into a + sign to allow you to add to the page. Once you're done with your doodling or note taking, you're returned to Evernote and the grid background disappears giving you digital ink on a page without the gridlines. Notes in digital ink sync well across the various platforms I use Evernote with.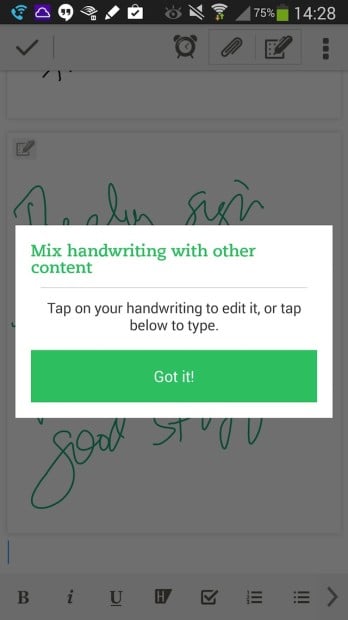 You can mix text and digital ink in a note, and while Evernote has also added a highlighting feature in this release it does not work with a stylus. To highlight a portion of text you select it and then hit the highlight button on the text formatting menu bar.
On the Samsung Galaxy Note 3, the ink lays down much more smoothly than it did in the Beta. I've seen reports that there is a lag with the eraser tool, but I have not seen that personally on this device. Keep in mind that there are several stylus enabled devices out there and different devices may yield different results.
Don't think of this as a full featured digital ink solution. There is no handwriting recognition in the App itself, meaning you can't convert handwriting to text. Notes taken in digital ink are searchable once they have been synced to Evernote's servers. The Android App offers some nice digital inking features that can allow you to take a quick note or create a quick sketch. But more full featured Apps such as Penultimate for iOS and Samsung's SPen Applications bring more to the table. Evernote owns Penultimate and that is the inking engine that this new addition to Evernote is build upon.

As an Amazon Associate I earn from qualifying purchases.