Evernote for iPhone updated
I updated my iPhone to the 3.0 software last night, after the server-slamming rush (I exercise what's known as "patience"), and was greeted by a handful of app updates, including one for Evernote. And judging by the date on the update page, they've been sitting on this one for a year.
Two things that really got me fired up were the mapping and improved voice note features, which I've been using for my mobile blogging. Thus, I wasted no time updating the app and seeing what it offered.
I intended to try out the voice notes in the morning, since that's part of my existing walking routine, but I got rained out. Plenty of time for that later though, and I already like the new look of the controls.
My first trial last night was the mapping feature. With it, you can see where you were when you recorded a note and visually search a map for notes. The map below shows you the various notes I recorded in and around where I work. Red means multiple notes at the same location. Green is for individual notes that popup the note title when you tap them.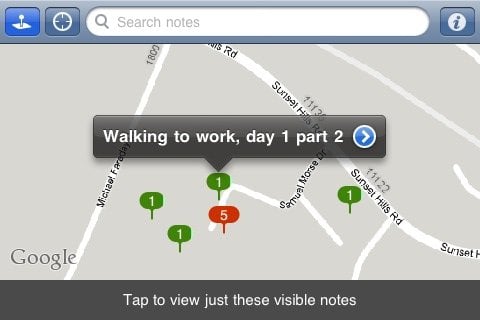 Several other features were also added, including a thumbnail landscape view and the potential for integration with other iPhone apps (intriguing). Check out the Evernote Blogcast for more details.

As an Amazon Associate I earn from qualifying purchases.