Evernote for Mac Updated with Audio Notes, Sharing and Faster Searches
Evernote for Mac just received a nice upgrade that brings the sharing we have seen on the Windows Evernote update and the first desktop inclusion of Audio Notes as well as a collection of improvements to speed. The New Evernote for Mac is available now and can be found on Evernote.com, from the Mac App Store or by choosing check for updates from within your existing Evernote for Mac app.
Record Audio Notes in Evernote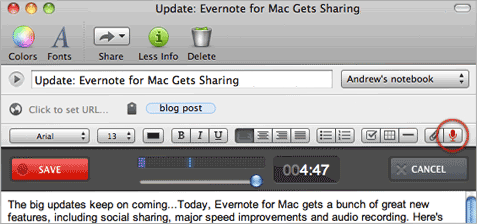 Evernote for Mac marks the first desktop app from Evernote that allows you to record an Audio Note. Like the Evernote apps for mobile devices, you can record a meeting or a personal note to yourself from within the app while typing or adding items as you normally would.
I was just wishing for a similar feature when I shared how I use my notebook's webcam and Evernote to go paperless and I am excited to see this new feature on the Mac side of things.
The Audio recording can take place in the background and you will see a red dot on the Evernote menu bar to indicate that there is a note recording. The note size is limited to 25MB for free users (~2 hours) and 50MB for paid users(~4 hours).
Note Sharing on Facebook, Twitter & More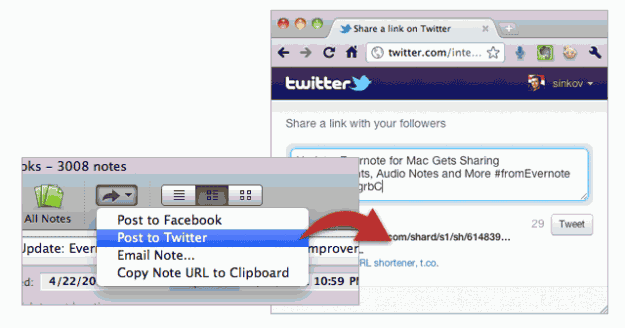 Another new feature, which we saw added to Evernote for Windows is the ability to share notes via Facebook, Twitter, Email and other methods. This makes it easier to share your iPad App Wishlists, class notes and other notes right within Evernote. The shared page is an Evernote note, so You are able to share more than just a link.
This is a handy feature, and one we have already started using on Evernote for Windows.
Faster Searching & Bug Fixes
Other fixes and features include faster searching in Evernote for Windows which is a welcome news for users with thousands of notes. Evernote has also fixed a collection of bugs and under the hood performance tweaks to make for a better overall Evernote experience.

As an Amazon Associate I earn from qualifying purchases.