Evernote Has Big Plans for 2009, Where's The Ink Love?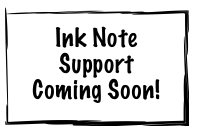 I just got an email from Phil Libin, Evernote's CEO, detailing their plans for 2009.
It is an interesting list, and good to see them overhauling their UI across all platforms. What would you like to see Evernote concentrate on? Personally, I'd like to see a better ink experience in their Windows version, and, ink notes visible on the Mac client. It is about time we see this all too familiar icon replaced with an actual ink note…Unfortunately, I don't see that on their list….
Here is Evernote's plan for 2009:
1. Sharing and Collaboration

The public notebooks functionality that we launched in 2008 was a timid, first step in our ambitious plans for making Evernote a great tool for sharing your memories and collaborating with your friends and coworkers. In 2009, we're going to greatly expand what you can do with your memories, documents, files, photos and anything else you throw into Evernote. If you're the social type, we're going to grow up from being your external brain to being a telepathic-mutant-super-brain, but with good manners. Of course, you'll always have the option to keep any or all of your info totally private.

2. More Mobile Phones

We'll be adding new Evernote native clients for a bunch of popular mobile phones. Right now, Evernote works great with iPhone or Windows Mobile devices. All other types of phones can use our mobile web and email interface ( https://www.evernote.com/m ), which is good for reading notes, but not as slick or full-featured as the native clients. If you're hankering for the full Evernote experience on your favorite phone, there's a good chance that you'll get it in 2009.

3. International Launches

It turns out that not everyone speaks English as their native language! Who knew? Well, actually we're a pretty multilingual office, so we kinda knew. There are currently Evernote users in over 110 countries, so we'll start rolling out versions of Evernote in multiple languages. The whole world can soon have a better brain. Today, Silicon Valley, tomorrow [makes world-shaped motions with his hands]!

4. Even Better Desktop Clients

All of our desktop clients: Web, Mac and especially Windows are coming in for a major UI and functionality overhaul. The result will be a smoother, more powerful and more consistent Evernote experience no matter what computer you use. Our web clipper ( https://s.evernote.com/webclipper ) is going to get a nice boost as well, making it even easier to capture and organize exactly what you want from the web.

5. Third-Party Apps

We've got a lot of people working on great applications using our recently-released external APIs and a couple of really spiffy ones have already launched ( https://s.evernote.com/api ). In 2009, you will see many interesting third-party releases and we're cooking up big plans to partner with API developers and help promote and sell their work. If you've got a great idea for an app or feature that could work great with everyone's external brain, make sure you let us know.

6. More Premium Features

We're going to make it easier for you to give us money next year, with expanded and enhanced payment options. Not excited by that? We'll also make it lot easier for you to decide to upgrade to Evernote Premium by rolling out great new premium features. Universal File Sync ( https://s.evernote.com/filesync ), our new premium feature launched earlier this month has already been a big success and more are on the way. Free users don't have to worry about being left in the dust; much of our new functionality will continue to be available to everyone!

As an Amazon Associate I earn from qualifying purchases.