Evernote-ing, Mesh-ing and MobileMe-ing Around in Rehearsal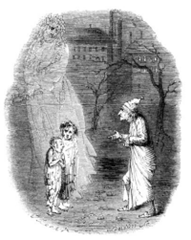 I'm knee deep in Christmas, the London of Charles Dickens with Ebenezer Scrooge, and 34 actors in two casts (including 18 children) as we rehearse a new musical production of A Christmas Carol which opens November 29 at Wayside Theatre. In addition to exercising the creative muscles, and the drill sergeant routine to keep things moving, this is an exercise in logistics as much as anything else.
My collaborator, Steve Przybylski, and I have been working on the script and the score for some time and as we approach the staging of each new scene we work with fingers crossed, (more difficult for him as he's playing the piano), to see if what we've written actually works on the stage.
Staging rehearsals are fast and furious as I'm trying to communicate as much information as I can to a cast that includes actors aged 5 to 70. Once we get the staging sketched in and feel confident the plan for each scene works, then we switch casts. There are two complete casts for this show because we do 10 and 11 performances per week. Everyone needs the same amount of rehearsal time. There are 17 actors in each cast, thus the total of 34.
So in my job as the director, I've got one eye on the script, one on the cast(s), and one on the schedule. My routine for these kind of shows has been to use a Tablet PC to keep up with all that I have to keep up with, but this year, in the staging phase of rehearsal, I'm experimenting with three different mobile syncing options and an iPhone. Don't worry Tablet PC fans, I'm not forgoing the Tablet PC in rehearsals. A Tablet PC will play a big role when I'm watching and taking notes here in a few days. For now though, I'm running around the stage like a madman trying to get everyone into the action appropriately.
I'm using Microsoft's Live Mesh, Apple's MobileMe, and Evernote, in sort of a showdown to see what serves me best here going forward. None of them is a perfect solution at the moment.
| | |
| --- | --- |
| Live Mesh | MobileMe |
| Evernote | |
Live Mesh
When Steve and I make adjustments to the script, the files are shared back and forth in a Live Mesh folder. This has worked well in the writing phase of the collaboration,   but it doesn't work as well when I may need to call up some information quickly in rehearsal. I have to go through too many screens and finger taps to get to the info I'm looking for. Live Mesh won't hold a log in for any sufficient length of time and this is bothersome. Time is more than of the essence in these rehearsals and seconds count. The files I am using here are saved by default to the Live Mesh folder I've created so there are always there.
MobileMe
Using the MobileFiles app on the iPhone, it is easier and less cumbersome to call up some info (assuming I've put it on my iDisk), when we're pushing through a rehearsal. I can access these files I need from the cloud or have them stored locally on the iPhone. This has been an effective tool so far, although files that I may have marked up with Ink don't show the Ink. That is also true with Live Mesh. MobileMe on a PC is all web access at the moment, which means I have to think and make sure I have uploaded those files to the MobileMe cloud if I'm working on a Tablet PC. If I've been working on the Mac, I just drag the file to the iDisk, but that situation is a rare one for me.
Evernote
This option is allowing me access to files on the iPhone with any Ink markups I may have made, (if only that were true on the Mac client!) But at the moment I either have to Import these files from OneNote or have printed them as a PDF to see those Ink markups.While that isn't overly problematic, it forces me to think twice in the run up to rehearsal to make sure those files are in Evernote's cloud.   I'd love to see a ""print to" feature in Evernote that would allow me to quickly print a file into the application. Evernote's Favorite Feature comes in handy for keeping the document local on the iPhone for quick access.
Because I have to think ahead of time about the files I need for MobileMe and Evernote, I'm creating a little more work for myself to conduct this experiment. The reality here is that when I need a quick look at a file, I need a quick look and nothing more. I can't afford to wait for a system to return from sleep, or punch through a series of screens to get to the data I need, not with 34 actors hanging on my every word. None of these solutions quite solve that yet.
The experiment continues today with an 8 hour rehearsal reviewing all we've done so far, and tomorrow attempting to fly the ghost of Christmas Yet to Come.

As an Amazon Associate I earn from qualifying purchases.