Evernote introduces Sponsored Accounts, premium accounts for groups
Evernote is taking another step into the enterprise market with the introduction of Sponsored Accounts, a simple, straightforward way for an organization to bankroll their members' Evernote Premium accounts.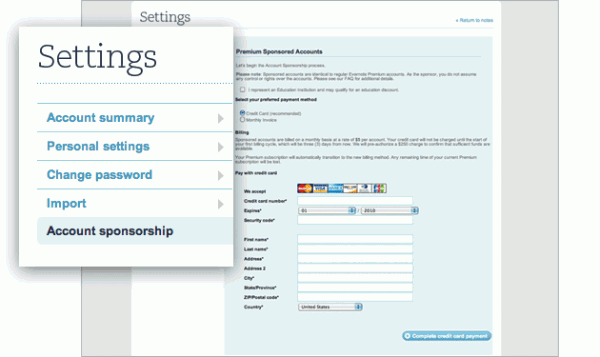 In a nutshell, it's now possible to pay for other people's Premium accounts on Evernote on a monthly basis. Previously, paying for someone else was possible via the gift system but was limited to one year prepaid. The monthly system makes it easier to add and drop Premium service as people join or leave your group.
Sponsored accounts cost the same as normal Premium accounts, $5 per account per month, which can be paid via credit card or monthly invoice for groups of five or more. Educational institutes receive a 50% discount; the K-12 private school Montclair Kimberly Academy in Montclair, New Jersey is already taking advantage of this. A perk of sponsorship is priority support for requests received from the group manager.

What I really like about this is the account itself belongs to the user, not the sponsor. Any notes in your Evernote account stay in your account even if you're dropped by a sponsor. The account will revert back to Basic or you can upgrade it back to Premium yourself. If you're already a prepaid Premium user and then get sponsored, any remaining prepaid usage is deferred until your sponsorship ends. You can share notes with the group via your own shared notebook or hand a note over to the group through a sponsor's shared notebook.
Note portability won't appeal to organizations that want to own everything their members do, but it can work for those that don't need that level of ownership, such as schools and companies that rely on freelancers. I can see it being deployed by small, dynamic groups that need to easily add and remove members. Also benefits Evernote users who need Premium features only while they're hitched to a group. Sponsored Accounts does not propel Evernote into enterprise territory just yet, but it's moving them that way.
On a related note: Evernote for Windows has been bumped up to 4.1, adding Notebook Stacks (basically a sub-folder system), upping the number of notebooks that can be created, and making note info expandable and collapsible.

As an Amazon Associate I earn from qualifying purchases.