Evernote Update Takes Advantage of iPad 2 Camera
Evernote was updated today with at least one new feature aimed at the iPad 2 – the ability to take note snapshots with the iPad 2's camera.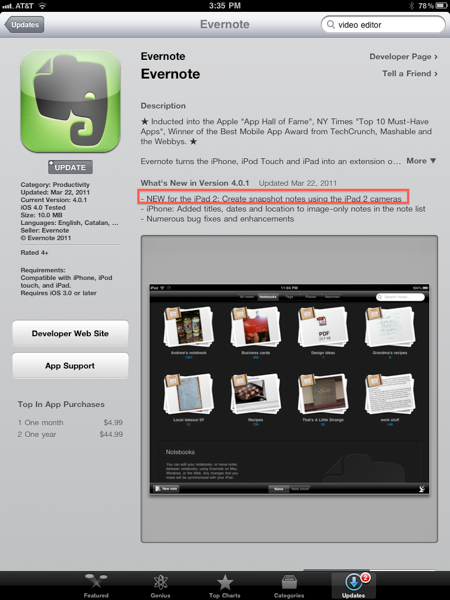 This is the killer application for the iPad 2. While sitting in a meeting just today I was using Evernote to keep track of our discussion. One of the members of the group handed out two pieces of paper with info I needed. Hating paper, I fired up the built-in camera of the iPad 2 and took a snap shot. On the iPhone I didn't need to exit Evernote because it had this feature already, but on the iPad version I did. You could add snapshots from the Camera Roll previously. Now you can do this within the note itself. See the difference between the two screen shots below (before and after).
Other additions include some bug fixes and iPhone specific updates as well. It is a free app that takes use of the great online note taking service by the same name.

As an Amazon Associate I earn from qualifying purchases.