eWallet 5.0 beta released – Now Tablet PC and UMPC friendly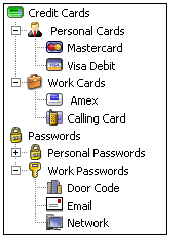 Ilium Software is well known to a lot of folks who use Pocket PCs, Palms, etc. Well, they have done some great work here with their eWallet 5.0 product and have specifically tailored the environment to be Tablet PC and UMPC friendly – that is something we love to hear from software companies. Well done, Ilium!
Specifically, eWallet 5.0 now supports screen rotation, screen resizing, and touch pack modifications like wider scroll bars. One of the biggest improvements they've made for mobile folks, like you and me, is the ability to sync to more than just PDAs. You can now sync with PCs on a network, remotes via FTP, and storage devices. Julie Van De Water, our contact at Ilium, told us that the main reason they added that support was for people who use their Ultra-Mobile PC or Tablet PC as a companion device.
Here are the other improvements to eWallet 5.0:
– Built-in online backup/viewing capability through FilesAnywhere sync.
– Brand new sync setup interface.
– Full support for Vista and Mobile Device Center.
– All new icon set.
– Four self-installing icon packs (not posted yet!)
– eWallet Companion step-by-step help tool.
– Graphics, icons, and sounds stored in My Documents now making it easier to customize.
– "No Password Needed" wallet option.
You can download the new beta version here. Please keep in mind that this is beta software.

As an Amazon Associate I earn from qualifying purchases.