Exclusive Vivienne Tam Mouse Giveaway!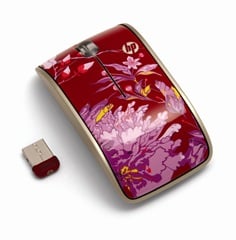 Not available for sale yet in the US, but I have one for a lucky reader of GottaBeMobile! This mouse is a perfect match for the HP Mini Vivienne Tam Edition. If you (or someone you know!) has an HP Vivienne Tam Edition, this would be an amazing find. And if you don't have a Vivienne Tam Edition, this is still a beautiful accessory to any laptop. While these mice should be available in the US at some point, right now, there are only a few available, on this and a few other sites that are working with HP on this Vivienne Tam promotion. So if you don't get this mouse, check out other sites that may be giving away this lovely accessory.
Contest Rules:
Convince me you want it. :) Seriously. Write a comment on this post and INCLUDE YOUR EMAIL ADDRESS when you submit the comment. I'll stop reading at about 100 words, so keep it short. :)
Entries must be submitted by 3pm Pacific time tomorrow, Friday Feb 20.
I'll sift through the comments and select a winner. The winner will be announced here and I'll contact that person at the email address they provided in their entry. At that point I'll get shipping info, etc.
That's it. Be persuasive. Be creative. Let me know why you would just love to have this mouse.
Winner announced tomorrow!

As an Amazon Associate I earn from qualifying purchases.