Executives and Other Criminals is a Major GTA Online Update
It's been some time since video game developer Rockstar delivered a sweeping update full of new content to its GTA Online open-world game for the Xbox One, PS4 and Windows PCs. Moments ago, the studio revealed the GTA Online Executives & Other Criminals a huge content upgrade coming to GTA 5 sometime next week.
Rockstar announced the GTA Online Executives & Other Criminals update today in a post on Rockstar Newswire. GTA Online is the free multiplayer experience that comes packaged with every copy of GTA 5. The game originally launched on Xbox 360 and PS3 back in 2013. Today the game is also available on the Xbox One, Windows PCs and Sony's PS4 gaming console. The versions of the game from 2013 no longer receive updates to their multiplayer experience, but Rockstar consistently adds new things to the three newer versions of the game.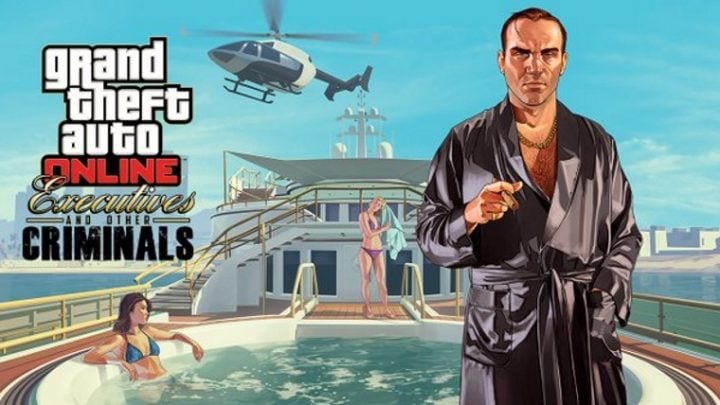 The highlight of the free Executives & Other Criminals update for GTA Online will be new modes and new things to buy. Players can save their earnings and purchase a house in Vinewood Hills or a new high-end apartment somewhere in Los Santos. These new apartments are customizable, according to Rockstar. Those that aren't fans of dry land can purchase an upgradable Super Yacht.
VIPs head their own organization with the Executives & Criminals update. Much like a real criminal enterprise, bosses can have their underlings pull off co-op jobs and challenges in the game's Freemode where it's sometimes very, very difficult to stay alive. To solve that problem ViPs can hire other players as bodyguards for in-game cash. "Bodyguads earn a regular paycheck and their own special benefits including RP, GTA$, and start boosts for working for a VIP's organization," Rockstar says.
Organizations can go head to head and battle each other for turf within Freemode. What's more, The Super Yacht and Turreted Limo are specifically for organizations that need fire power. For example, the Super Yacht has its own missile defense system and helipad. There are other vehicles coming too, like an upgraded helicopter and other small boats and ships.
This update will add Extraction Adversary Mode, which focuses on Bodyguards trying to locate and keep an organization executive safe. Organizations will feature prominently in King of The Castle and Moving Target modes going forward. The blog post indicates that there are other changes coming to game modes, but doesn't detail them.
Rockstar says that it plans to fully detail everything that GTA Online players can expect before Executives & Other Criminals launches. The studio also makes it incredibly clear that this update is specifically for the latter three versions of GTA 5, not the first two versions. That's not going to please gamers who have yet to upgrade to an Xbox One or PS4 yet. At least the studio is being consistent about the upgrade path though.
When the update is ready, Xbox One and PS4 users should find that their version of the game updates seamlessly. Both consoles perform game upgrades in the background – provided that owners have their Always Connected power modes enabled in settings. Users that aren't connected when the game update arrives or have the power mode disabled will need to download the update to their console the next time they open the game after release.
GameStop recently introduced a new versions of the game for those who don't want to purchase used. Called GTA 5 Day One Edition, these versions of the game come with $1milion in cash to purchase items in GTA Online. Used copies of the game are $54.99 on Xbox One and PS4 still. In-game cash is available through the Xbox Store and PlayStation Store but is sold separately from the base game.

As an Amazon Associate I earn from qualifying purchases.