ExoPC Slate offers a tablet-centric UI over Windows 7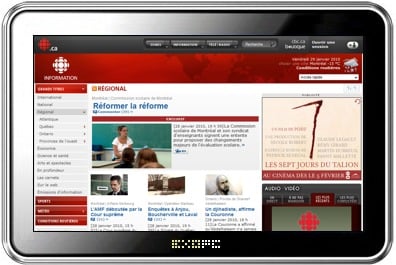 I'm normally not a fan of interface overlays to make Windows work on a mobile PC. Inevitably, there's a need to dig beneath the overlay, sticking you with a desktop-based interface. However, I think the ExoPC Slate with 8.9″ multi-touch screen may have remedied that problem by taking the overlay concept a necessary step further.
Basically a netbook in slate form, the ExoPC doesn't stop with the usual launcher type interface. Per their website (translated from French):
Applications for Slate ExoPC are specially designed for use touch. The development kit is freely available and allows for quick and easy touch applications in Flash or Javascript.
So while the ExoPC is running on Windows 7 Professional, it's intended primarily to run custom apps, not Windows applications, though it presumably can do both. I'm a little puzzled as to why it's running Professional as opposed to Home Premium. Certainly it's better than the Starter version, which lacks touch support, but I have to wonder if perhaps they need XP mode for the UI. I also notice their mockups lack critical interface elements (not to mention advertised hardware), so it's not clear how the UI will work. Another puzzle is whether it has mobile Internet installed. The specs (posted after the jump) mention CDMA/SIM, but not 3G.
Product is in prototype right now without multi-touch (and half the battery life), which they appear to be selling for US$780. Or if you can wait for the final multi-touch version, it's US$599.
Via Engadget
Intel Atom N270 1.6GHz
Intel 945GSE + ICH7M
Integrated Intel Graphics GMA950
2GB DDR2 RAM 667Mhz
Multi Touch Screen 8.9 inch
1024 x 600 pixels 1024 x 600 pixels
SSD 32GB
Card Reader SD / MMC
802.11 b/g WLAN WiFi
Bluetooth
10/100 Network
1.3 Megapixel Webcam
3 USB
Headphone and microphone
VGA Port
CDMA / SIM
4 hour battery life

As an Amazon Associate I earn from qualifying purchases.