Explosive GTA Online Double Cash Finale Arrives
This may very well be the last week players of GTA 5's GTA Online multiplayer are able to level up faster and build stash of cash double what they normally would. Video game developer Rockstar is describing this week's Grand Theft Auto Online Heists Double RP & Cash Payout as "the grand finale."
Rockstar announced the Grand Theft Auto Online Heists and Double RP & Cash promotion in a post on its Rockstar Newswire blog earlier today. Rockstar has run some promotion like this for weeks, letting users quickly get to new levels and afford the latest in gear by playing through the multipart, multiplayer Heist missions that it added to the game earlier this year.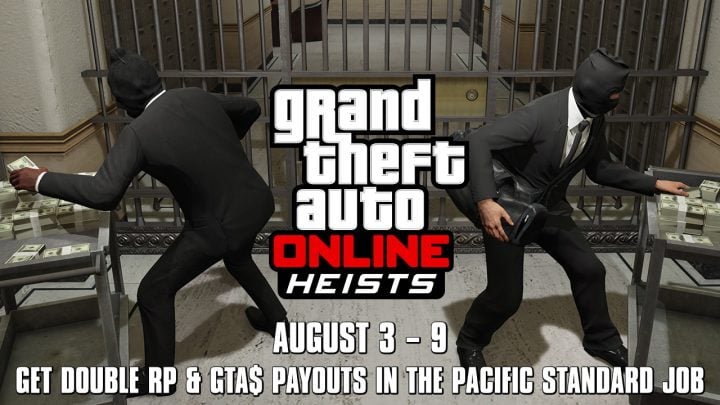 Only users participating in the Pacific Standard Job from today until August 9th get the double rewards. The Heist finale itself is a bank robbery job in downtown Los Santos. To get to the Pacific Standard Job Heist leaders will need to make it through of the Pacific Standard Job's individual missions. That includes stealing supplies for the job like motorcycles, destroying a convey and getting someone out of the Los Santos Police Department's custody.
Besides getting double cash and double RP for the missions themselves, Rockstar is gifting anyone and everyone double GTA Online cash and experience points for completing the levels Elite Challenges too. For example, anyone who manages to complete the actual bank robbery in less than 10:15 stands to earn even more cash.
In GTA Online RP and cash are key to each player's standing. Called RP for short, reputation is what you earn in the game as you complete more missions and try new things. Rockstar links what you can do in GTA Online to your RP level. That's why you want to earn as much of it as possible. For example, you don't actually get to purchase a parachute or manage a crew of your very own until you've hit level 11 by completing other activities.
For those who need to get ready for the Heist, Rockstar is also double on the reputation players earn by completing a Deathmatch in third place and killing someone using a car. Missions that are completed without any loss of life are key too. Stunt jumps, Survival encounters and exporting cars through Simeon also include double RP.
To entice players to spend a bit of the GTA Online cash that they earn, Rockstar is offering deep discounts on gear that's purchasable in the game's stores and websites. We don't yet know how steep the discounts are since Rockstar is asking users to follow it on Twitter, like it on Facebook and following on Instagram to hear about these sales.
What'll happen after this week's bonuses finale in GTA Online remains unclear. It seems unlikely that Rockstar would start over fresh next week. This could be the last chance gamers have over the summer to level as quickly as possible. There are some speculating that Rockstar is running these events to give users a chance at affording new content it plans on adding sometime soon. We'll have to wait to see if that's true or not, but it at least sounds plausible.
Read: Why & How to Make Money in GTA 5's GTA Online
All told, this final Grand Theft Auto Online double payout promotion is an excellent time to get back into the game. Playing now means spending less time earning items later. Even those who aren't worried about the money should still take advantage: again, earning RP is the only way to unlock some features.
GTA Online comes free with every copy of GTA 5 sold for the Xbox One, Xbox 360, PS3, PS4 and Windows PCs.

As an Amazon Associate I earn from qualifying purchases.