Explosive Halo 5 Trailer Arrives As Release Date Nears
The Halo 5 Guardians release date is just two weeks away and Microsoft is wasting no time hyping the game's launch on Xbox One. This time, it's the new Halo 5: Guardians Launch Gameplay Trailer that's attracting attention.
Microsoft officially released the Halo 5: Guardians Launch Gameplay Trailer this morning in a post on its Xbox Wire news blog. Halo 5: Guardians is the sixth game in the main Halo franchise to arrive for fans. First revealed a few years ago, Halo 5: Guardians is only coming to Microsoft's Xbox One entertainment console. The company is using the game as a way to lure longtime fans of the franchise off the Xbox 360 and onto its latest hardware.
The Launch Gameplay Trailer in itself is a 2-minute long recap all the information we have about the Halo 5 story already, with just a snippet of new story. That new story information is mostly packed into the first moments of the trailer.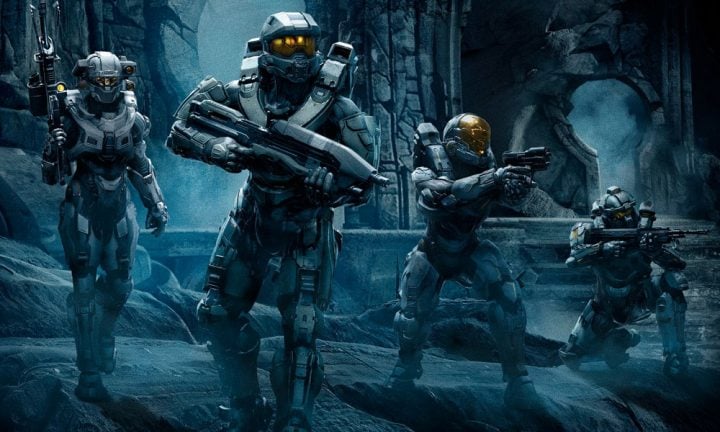 The entire video begins with Dr. Catherine Halsey's voice adding context to video footage we see of her letting herself into what appears to be a laboratory at the Office of Naval Intelligence. "Once this is over, after all we have done, they will order you to kill us both." The line sets the tone for the rest of the trailer and Halo 5: Guardians in general. It seems there are pockets of people now learning the truth about how Master Chief John 117 was created. ONI is sending Spartan Locke and his team to track down John 117 and his Blue Team. ONI says that John has gone rogue, deciding not to take direct orders from anyone in a position of command.
Giant blue pulses are hitting Earth's colonies like a plague. They strike out of nowhere and shut down every piece of technology on entire worlds. It's implied that John 117 and Blue Team are behind the pulses causing mass destruction on at least five planets. We hear John 117 being ordered to return to the UNSC Infinity while out to space in a UNSC dropship. He politely declines to do so, but his reasons for disobeying the order aren't exactly clear.
John says "he has a job to do," and apparently won't return to Earth until that job is done. This leaves Spartan Locke and his team no choice but to bring Master Chief John 117 back to Earth by any means possible. It's not until this part of the trailer that we see anything resembling actual game play. There are some shots of Blue Team members taking on enemy forces in a couple of different locations. There's a lot of emphasis on Ground Pound, the new ability that lets Halo 5: Guardians players leap into the air and takeaway a group of enemies below them as they land.
The Halo 5: Guardians Launch Gameplay Trailer ends with Master Chief John 117 walking away from the camera. The title of the game floats into view, informing potential buyers of when they can expect the game to launch.  Presumably, this will be the last trailer we get before Halo 5 launches. Microsoft's post invites users to checkout its Halo Waypoint website for "the latest updates" on the game.
Read: Which Halo 5 Guardians Edition Should You Buy?
Besides releasing new trailers, Microsoft is hyping the Halo 5 release in other ways. Late last week the company began selling special Halo 5: Guardians controllers designed to look and feel like pieces of Spartan Locke and John 117's armor. Microsoft has a Halo 5: Guardians themed Xbox One coming next week that'll include a downloadable copy of the game that shoppers can switch out for a physical copy if they choose.

This article may contain affiliate links. Click here for more details.