Explosive New Assassin's Creed Unity Trailer Shows Co-Op Mayhem
Ubisoft is once again building hype for Assassin's Creed Unity, the newest game in its long-running Assassin's Creed open-world franchise. This new trailer doesn't offer much in the way of new story details, but it does do a good job of showing off how the game will enable co-operative killings and more on the Xbox One and PS4 when it eventually launches.
Developer and publisher Ubisoft revealed the new Assassin's Creed Unity Co-Op trailer on its YouTube Page late yesterday. The almost entirely follows in the tradition of past Assassin's Creed. That is to say, game play elements are weaved with cinematic scenes from the game's story and some background music to set the mood.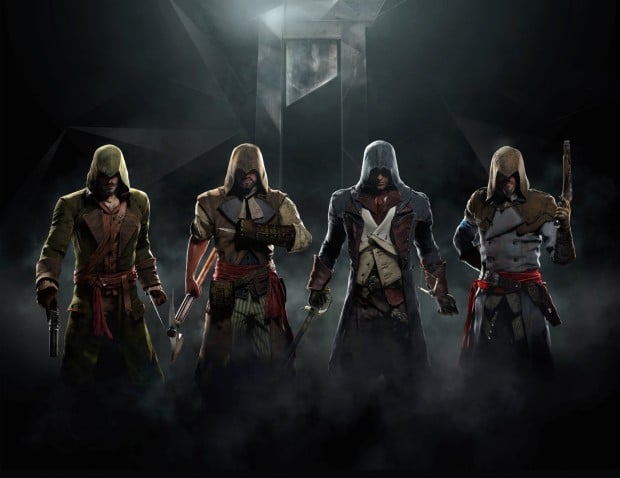 In the trailer we see Arno and three other members of the Assassin Order killing rivals with style and finesse. As one player is taking on French guards, another is jumping along rooftops. When one assassin is hit another rushes to his defense and helps him up. The trailer ends with Arno in the forefront taking down another guard and his three companion assassin's standing behind him. Blood then spatters across the screen, forming the word "Unite."
Watch: Assassin's Creed Unity Trailer Reveals Why It's the Best Yet
Whether users can expect this same experience when Assassin's Creed Unity becomes available is unclear. We don't' yet know if these scenes are taking directly from the game's story. What we do know is that the trailer is meant to highlight the very real advances that Assassin's Creed Unity will bring for users who want to play missions with their friends.
Previous versions of Assassin's Creed have allowed users to play against their friends in multiplayer modes, but Assassin's Creed Unity seems to take this to the next level. Assassin's Creed Unity players will be able to team up with each other by entering different taverns in the in-game city of Paris, France. From there they'll be able to check and see which of their friends are playing the game. Players can combine forces to finish missions in the game. Much of the game's story will require that users be alone, but a ton of content will also be available for users to play together. Assassin's Creed Unity will support up to four different assassin's cooperating on the same mission. As long as one player is alive no progress will be lost. Players can revive their fellow assassins, according to a run down from Game Informer.
Besides co-operative play, there are some other landmark changes for players of Assassin's Creed Unity. The game, which debuts on November 11th in the United States, won't be available on older gaming systems. That means that Xbox 360 and PS3 users will need to upgrade to play the game. Not supporting older consoles has allowed Ubisoft to evolve some of the game's core mechanics. Getting down from high places won't involve hunting around for haystacks and jumping into them. Instead, users will finally be able to climb down buildings much in the same way they can climb them. That's a huge and welcome change.
In previous versions of Assassin's Creed there was nothing more painful than the loading screen that would surface whenever you entered a building. In Assassin's Creed Unity, those loading screens are gone and users can easily move inside and outside of different locals, big or small. For the most part there doesn't seem to be anything other than the loading screen at the beginning of the game.
When Assassin's Creed Unity launches on the Xbox One and PS3 it'll cost $59.99. Additionally, users will be able to pre-order the game through the Xbox Store and PlayStation Network. A season pass for the game will be available too, but we don't yet know much about the add-on content it'll provide for users. Originally, the Assassin's Creed Unity release date was in late October.

This article may contain affiliate links. Click here for more details.