Eye-Fi Debuts ProX2 Card with Endless Memory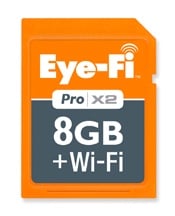 Sometimes my memory seems endless, or perhaps it just seems like it is never ending. It doesn't matter. One thing you can count on at CES 2010 is that Eye-Fi will come out with another updated version of their excellent SD cards that allow for video and photos to be uploaded on the fly.
This year Eye-Fi is touting the ProX2 Card which comes with 801.11N connectivity and what they are calling Endless Memory. The idea is that after your pictures/video have been sent to the big cloud in the sky they are deleted from the card giving you in essence, endless shooting capability. The card itself is an 8GB Class 6 SD card. It is available for pre-order at $149 though there is no word on shipping as of yet.

As an Amazon Associate I earn from qualifying purchases.