Eye-Fi Puts Wi-Fi on Most Digital Cameras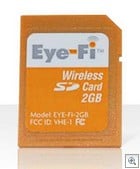 This looks like a winner. The Eye-Fi is a 2GB SD memory card that adds Wi-Fi to most digital cameras. The free Eye-Fi service allows you to then upload your photos directly to your computer or 20 different web-based photos sites. According to all I've read about this, it seems to work as advertised (haven't tried it personally yet).
The beauty of this is that it allows you to snap your picture and if you're in range of WiFi up go your pictures to the target you designate. No more card swapping, no more cradles, no more cables. One caveat, the Eye-Fi doesn't support hotspots. Price is set at $100. I'll have to give this a go.

This article may contain affiliate links. Click here for more details.