Eye-Fi Ups the Ante with iPhone App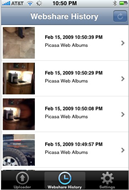 The folks behind the Eye-Fi Card keep doling out new and better things and this latest edition to the Eye-Fi arsenal is pretty sweet. They've created an Eye-Fi app for the iPhone that allows users who have an Eye-Fi card to send photos wirelessly from your iPhone to your computer or the online repositories you've chosen. This is sweet.
Again, you need to have an Eye-Fi card (there are several to choose from) and an account. Here's the link to the iTunes App store to check it out.

As an Amazon Associate I earn from qualifying purchases.