eyeLock myris is TouchID for the Eyes
Apple's iPhone 5s has brought biometric security mainstream thanks to the inclusion of the TouchID fingerprint scanner and since then other companies like HTC with the One Max have tried to capitalize on Apple's success. However, a new technology that relies on scanning the human eyes is said to be much more accurate and powerful than the fingerprint, reducing any false positives to secure your phone, home, or computer. The myris technology developed by eyeLock and debuting at the Consumer Electronics Show scans the iris to authenticate users, replacing physical locks, passwords, and security keys.
According to the company, which is developing the authentication module with VOXX, eye scanning is much more secure than fingerprint scanning. With a fingerprint, there is a one in 10,000 chance of a false positive whereas with an iris scan, there is only a one in 1.5 million chance. This ratio decreases significantly further to one in 2.25 trillion if both eyes are scanned.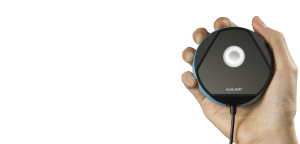 The way myris works is that you plug in a hockey puck-sized authentication module into the USB port of your computer. Once you need to log in to your system or authenticate passwords, you pick up the module and scan your eyes.
"myris works by converting an individual's iris patterns to a code unique only to that person," the company said. Then it matches "that code to your eyes to grant access to the devices and digital platforms."
Given recent notable hacks that resulted in the compromise of personal and financial information over the holiday at Target retail stores, myris could help reduce and prevent fraud if businesses begin to use the human iris as a digital signature for verification and authentication.
It's unclear when and if the technology will begin appearing on smartphones, but at this time the technology is said to work with Windows 7, Windows 8, and Mac OS. For consumers, this could mean the beginning of the end to having to remember passwords.
The device is coming later this year at an undisclosed price point.

As an Amazon Associate I earn from qualifying purchases.