Eyes on iPhone 6, iWatch as Apple Fast Tracks 'Critical' Component
Apple is pushing forward to bring the Sapphire plant in Arizona up to speed to start production in February to deliver, "a critical new sub-component of Apple Products," that will be sold globally, bringing the iPhone 6 and rumored iWatch to mind.
The plant first appeared on our radar when Apple invested half a billion dollars in the company last November leading to speculation that Apple would soon use the strong Sapphire material to deliver a scratch free surface for an upcoming product, but it wasn't clear how fast Apple would move.
Thanks to a new report from Mark Gurman at 9to5Mac we now have a much better idea as to when Apple will start selling a product with this new Sapphire screen technology in place. Gurman uncovered documents relating to Project Cascade which describes Apple's plans for the product and outlines the steps taken with local government to get the project up and running.
In the letters and documents discovered, Jim Patton, the Director of Global Trade Compliance at Apple asks te U.S. Department of Commerce to expedite a Foreign-Trade Zone application for, "an aggressive go-live timeline of February of 2014."
This timing lines up with the lead that Apple would need to add a Sapphire product into an Apple product for release later in 2014 according to Gurman. This timing does make sense for a fall product launch, as production trial runs for a Sapphire iPhone display are reportedly underway and recent patents for using Sapphire as a iPhone display "window" which could include an oleophobic coating like the current iPhone models.
Apple already uses Sapphire in the Touch ID home button found on the iPhone 5s and on the lens cover for the iPhone 5s, iPhone 5c and iPhone 5, but the wording used in Project Cascade documents points to something bigger.
"Project Cascade will conduct high-tech manufacturing of intermediate goods/components for consumer electronics. All finished components will be exported. This high-tech manufacturing process will create a critical new sub-component of Apple Products to be used in the manufacture of the consumer electronics that will be imported and then sold globally. By pulling this process into the U.S., Apple will be using cutting edge, new technology to enhance and improve the consumer products, making them best in class per product type."
Apple does not come out and name the products it will make at the facility nor the devices these Sapphire components will appear in, but it is very likely that Apple is planning a larger role for Sapphire in a new iPhone. With the 2014 timeframe in mind, this could be a key component to an iPhone 6 with a larger display.
Also discovered in the document was a listing of foreign components that includes Diamond cutting wire. Apple uses the Diamond cutting wire to trim the bezel on the iPhone 5s, iPad Air and iPad mini.
Stepping back and looking at the investment in the facility, the "aggressive" timeline to go-live, hiring of iPhone and iPod engineers and employees it becomes clear that Apple is planning something big for Sapphire this year.
It's still a rumor of course, but it would not be surprising to see Sapphire play a major role in at least three new Apple products in 2014. Here's a quick look at the rumored Apple devices that could make use of Sapphire.
iPhone 6 with Sapphire Display
The iPhone 6 rumors are non stop in 2014 with many analysts and leaks suggesting Apple is planning two iPhone 6 models for a fall release. While the screen size, quantity of iPhone and the iPhone 6 release date vary from rumor to rumor, there is agreement on one detail.
Unless Apple shocks the most reliable analysts with a large screen feint at suppliers we should see an iPhone 6 with a larger screen this year. The screen may be as small as 4.5-inches or as large as 5.5-inches depending on the rumor and the number of iPhones Apple brings to market.
Apple could use this re-design and larger screen as the launching pad for a Sapphire display on the iPhone 6. This would in theory make the larger screen less susceptible to scratches, but as strong as Sapphire is it is not likely to deliver an iPhone 6 that uses can drop without care.
The video above shows the various iPhone 6 screen sizes on several devices to visualize what iOS looks like on a bigger screen.
iPod touch 6th Generation
Apple basically admitted a new iPod touch for 2014 isn't coming in the first quarter of the calendar year, but even with declining sales it doesn't look like Apple is ready to give up on the iPod touch yet.
The iPod touch 5th generation is aging and Apple could see fit to offer a new iPod touch with a Sapphire display later this year to appeal to customers who still want a iPod for kids or to use as a connected device without springing for a smartphone.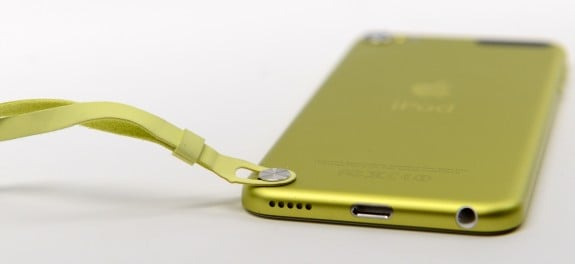 Gotta Be Mobile reader Nick Perry bought two iPod touch devices in December for his eight and twelve-year-old children and Mike Boyd is hoping for a new iPod classic this year. These are just a few of the consumers who still see value in an iPod.
The iPod touch is a less likely target for a Sapphire screen at the start, but it is a possible target for this new technology thanks to the hiring of iPod engineers at the Arizona facility.
 iWatch with Sapphire Display
The iWatch is still a rumor with a lot of attention, but no substantial information. That said, if Apple is working on an iWatch a Sapphire display would make a lot of sense.
A watch face needs to stand up to a lot of abuse and small scratches from bumping a table, door handle or a million other edges that wrists scuff into can quickly add up.
High-end watches like Tag Heuer, Movado and others use Sapphire screens to protect the display from scratches. Sapphire is extremely resistant to scratches, with Tag Heuer boasting, "only a diamond can scratch it."
An iWatch could be Apple's first wearable acting as a companion to the iPhone with notifications, access to Siri or other features.