Face-Off: Kindle Fire vs. Nook Tablet
Though the two tablets have a lot in common, once you do a feature by feature break down and comparison it's clear that they each have strengths that appeal to different people and dealbreaking weaknesses that help consumers decide which to pick. Read our face off to find out which budget tablet is best for you.
This week, Barnes & Noble announced a new version of their popular Nook Tablet. The 8GB model has half the internal storage and half the RAM, allowing the company to sell it for $50 less. The $199 Tablet is now the same price as the Kindle Fire.
Now that cost is no longer a differentiator, which one should consumers pick?
The answer depends on what features are more important to you. Is access to mobile media your dream, or are you looking for the best eReading experience? How much do apps or media matter?
Though the two tablets have a lot in common, once you do a feature by feature break down and comparison it's clear that they each have strengths that appeal to different people and dealbreaking weaknesses that help consumers decide which to pick.
Read on to find out whether Barnes & Noble's Nook Tablet or Amazon's Kindle Fire should be your next tablet.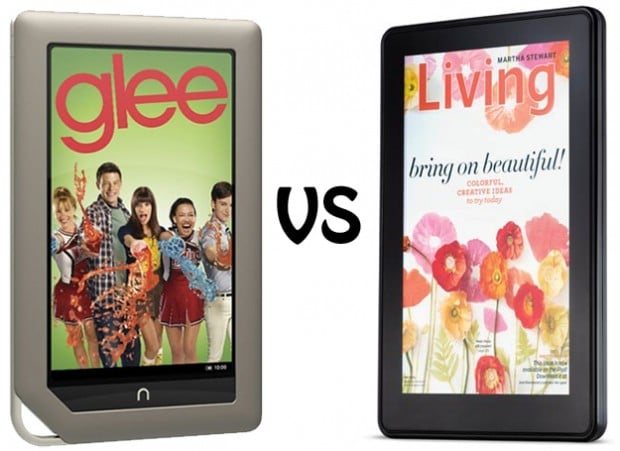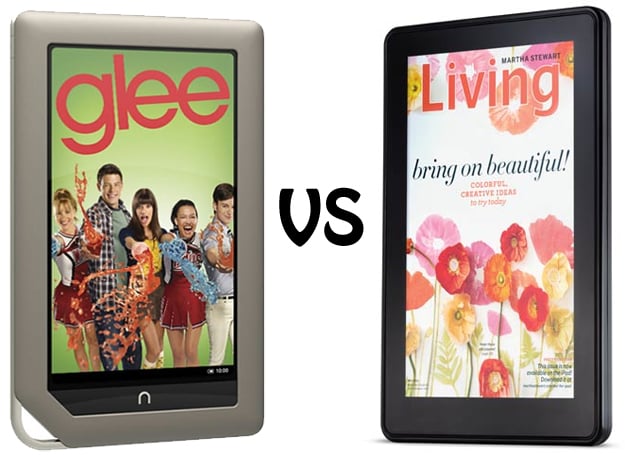 Reading Books and Magazines
Even with the word tablet in the name, Barnes & Noble still positions the Nook Tablet as an eReading device (with benefits), privileging that experience above the tablet's other qualities. Amazon takes the opposite tack with the Kindle Fire and doesn't tout its eReading abilities as much as the multimedia aspect. As such, the reading experience on the Fire doesn't compare favorably to that of the Nook.
Regular eBook reading is a pleasure on the Nook Tablet because the software offers multiple customization options from line spacing and margins to wide font selection and a range of colors for text, background and highlights. The Kindle Fire has some of these, but the customization options aren't as robust.
If you have young kids, keep in mind that Barnes & Noble has a superior selection of children's books, many of the enhanced variety. These titles can read to your child, help them learn by sounding out words, and engage them with little animations.
Magazine reading is also better on the Nook Tablet. Users get a full magazine layout view plus the choice to read articles as plain text. There are some publishers doing something similar for the Kindle Fire, but not as many as on the Nook. Plus, the Nook's interface does a better job of getting out of the way so the magazines can shine.
(Related: Kindle Fire Magazines Are Ugly As Sin)
Another advantage the Nook offers is ePub eBook format compatibility. This allows owners to transfer books from other stores such as Sony, Kobo, and Google Books to the Nook Tablet. The Kindle Fire is mostly limited to Amazon.
Music and Video
Amazon's focus on multimedia pays off in this category. The Kindle Fire is essentially a delivery device for the company's many media offerings, including their large Instant Video service.
The Fire is the only tablet with the Amazon video app at this time (officially, anyway). And Amazon Prime subscribers also get access to streaming content. The streaming library isn't as big as Netflix right now, but that could change in the near future.
There are over 48,000 movies and over 8,000 television shows available to rent or buy, and new releases hit Amazon much faster than Netflix most of the time.
Note that the Nook can play Amazon Instant Video via he browser, which supports Flash. However, I find the process frustrating, as sometimes video stops for no reason and you have to fiddle with the browser for far too long to get things going again.
Amazon's MP3s are DRM-free, so you can listen to them on any device (even the Nook). The advantage on the Fire is access to tracks stored in the cloud and the ability to buy directly from the device.
Right now there's no music or video ecosystem on the Nook Tablet. It gets high marks for supporting the Netflix, Hulu Plus, and Pandora apps so subscribers to those services can stream video and music. And users can load their own video and music onto the device or an SD card to play. However, many consumers want a total solution — one place to buy or rent or stream.
When it comes to watching video, the Nook Tablet's IPS display proves superior to the Kindle Fire. The Nook's viewing angles are much wider, plus colors are brighter and blacks truer.
Neither device has very good speakers, so you're going to want headphones or external speakers either way.
Software Interface and Usability
Both the Nook Tablet and Kindle Fire run on Android 2.3 (Gingerbread) with very heavily modified interfaces on top to make using them easier and more intuitive. The interfaces also hides some of the settings and functionality usually accessible in Android.
The Nook's interface is more attractive and well thought out than the Kindle's, but both are easy to use and understand, even if you're not techie.
Apps
Even though Barnes & Noble had an app store before Amazon, the app selection for Kindle Fire far outweighs that for the Nook Tablet. Right now there are just over 2,800 apps for Nook and over 29,000 in Amazon's App Store. Just over 16,500 of those work with the Fire.
B&N's app selection includes many of the basics, like a mobile office suite, note apps, popular games, and lots of books-as-apps for kids. However, you may not find the apps you want.
Of the top 20 free and paid apps on in Amazon's store 13 are available on the Nook Tablet. Angry Birds and Cut the Rope appear in both stores, but only Amazon has Where's My Water and Plants vs. Zombies.
Amazon's app strategy is to get as many apps into their store and working on the Kindle Fire as they can. Barnes & Noble is taking a much more measured approach, picking apps that they feel go with the Nook's theme as a "Reader's Tablet." It's likely that the Nook will never has as wide a selection as the Fire.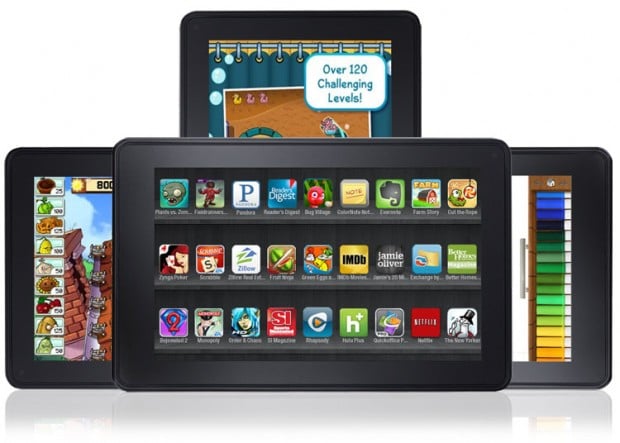 If apps are important to you, keep that in mind. However, if you just want a few core apps or apps aren't a big deal then you'll be all right with the Nook Tablet.
Design
The Nook and Fire are a similar size and weight since they both sport a 7-inch display and a similar footprint. Once you actually hold them, the design difference is striking.
The Nook Tablet is more comfortable thanks to the rounded edges and corners plus the soft-touch back and the half an ounce difference between the two. The metallic-looking chassis, flush power and volume buttons, and stylized n under the display give it a more polished, sophisticated look.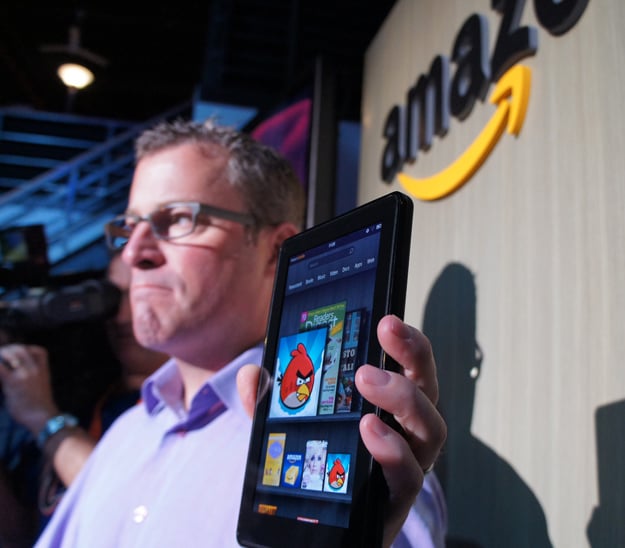 Amazon pulled the same basic hardware as the BlackBerry Playbook from the shelf to build the Kindle Fire. While not heavy or awkward, this tablet isn't as nice to hold or look at. Plus, the lack of a hardware volume rocker is a pain.
(Read: Nook Tablet and Kindle Fire Subjected To Drop Test)
Hardware and Performance
| | Kindle Fire | Nook Tablet 8GB | Nook Tablet 16GB |
| --- | --- | --- | --- |
| Dimensions | 7.5 x 4.7 x 0.45 inches | 8.1 x 5.0 x 0.48 inches | 8.1 x 5.0 x 0.48 inches |
| Weight | 14.6 ounces | 14.1 ounces | 14.1 ounces |
| Processor | 1GHz Dual Core Ti OMAP 4430 | 1GHz Dual Core Ti OMAP 4430 | 1GHz Dual Core Ti OMAP 4430 |
| RAM | 512MB | 512MB | 1GB |
| Storage | 8GB (approx. 5GB user accessible) | 8GB (5GB user accessible) | 16GB (1GB user accessible, can be modified) |
| Screen | 7 inches, 1024 x 600 | 7 inches, 1024 x 600 | 7 inches, 1024 x 600 |
| microSD | No | Yes | Yes |
| Microphone | No | Yes | Yes |
| Price | $199 | $199 | $249 |
There are now two versions of the Nook Tablet: 16GB and 8GB. The only difference between them is the amount of internal storage and the RAM. Otherwise they have the same design, dual-core processor, and internal mic (for recording story readings in kid's books).
The Kindle Fire has 8GB of internal memory and 512MB of RAM. However, users cannot add a micro SD card to expand the storage in the Fire as they can in the Nook.
Both devices have the same processor.
When comparing the performance of the 16GB Nook Tablet and the Kindle Fire the Nook proved itself snappier when opening apps and books, turning pages, and moving through the interface. While the difference isn't huge, it's noticeable.
The 8GB Nook Tablet isn't as good at multitasking as the 16GB version, but still feels snappier than the Kindle overall. Especially when it comes to screen responsiveness. Where the Kindle doesn't always respond immediately to taps, I haven't encountered this on either version of the Nook.
Conclusion
For consumers who want a tablet mainly for media consumption, the Kindle Fire offers a vast library of titles to buy, rent or stream plus a strong selection of apps. However, it's not as well designed or as good a performer as the Nook Tablet.
Both the $199 8GB Nook Tablet model and the $249 16GB version offer a better reading experience and, though there's not as comprehensive a media offering, Netflix and Hulu Plus have a good selection of television episodes and movies. Plus, the design and hardware mean you'll get better performance.
I recommend the Nook Tablet over the Kindle Fire. If your budget can only accommodate the $199 price range, the 8GB model is an excellent choice. However, if you can afford the extra $50, go for the 16GB model. Not only will you get more storage but a bump in performance as well.
Related:

As an Amazon Associate I earn from qualifying purchases.