Facebook App Center Leaks on iOS
Facebook's new App Center is launching in a few days, but some users might already see it in the Facebook iOS app.
According to TechCrunch, at least one user already has the App Center available in the Facebook iPhone app. The icon for the feature appears just above the chat option in the left-side menu in the app. Opening the App Center brings user to a page of apps they can download from the App Store.
The purpose of App Center is to expose users to more apps that use Facebook integration. Screenshots that Facebook released of the feature show Draw Something, Viddy, Foodspotting, Vevo, and Airbnb listed in the App Center. Each of those apps use Facebook Connect in one form or another.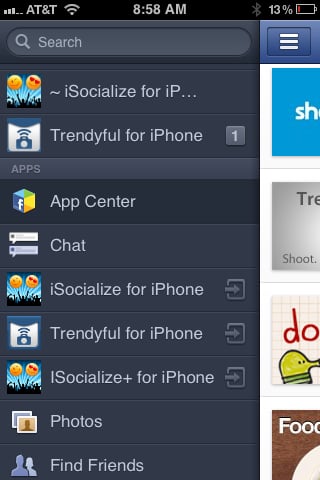 The Facebook App Center might lead to more users downloading Facebook-enabled apps, though many of those apps are already popular. Draw Something spent a lot of time at the top of the App Store charts before it started dying, and apps like Viddy and Socialcam were popular until users realized how scammy they are.
Facebook is holding an event in San Francisco tonight where it will likely announce the release of App Center. If the feature follows in the footsteps of other Facebook features, it will gradually rollout to users over time.
The feature seems like a nice idea, but we're not sure why Facebook needs to build it into the current app. The core Facebook mobile apps are already pretty broken. Why add another feature to a broken app instead of just creating yet another standalone app?

As an Amazon Associate I earn from qualifying purchases.