Facebook App for Windows Mobile Now Available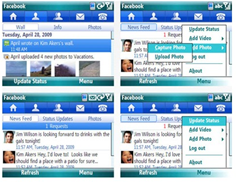 Facebook is one of those applications that I'm on and off about. There's a lot I like about it and a lot I don't like. What I like is that I'm able to keep up with some friends from the various chapters in my life who I probably otherwise would not keep track off. The Facebook mobile app for the iPhone is probably one of the apps I use most often on that device. In fact in some ways I prefer that way of accessing Facebook over the normal web method. Now there's a new Facebook App for Windows Mobile.
If you're interested in checking it out what then Windows Mobile app is all about, Remo Knops of MobilityMinded has posted an overview of the app.
Via MobilitySite