Facebook for iPhone Now with Privacy Settings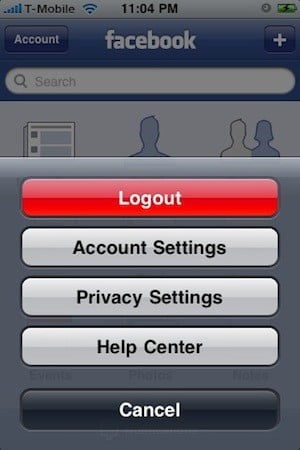 Along with its Facebook Messages announcement today, it looks like Facebook has gone on to update its Facebook for iPhone app to include privacy controls. The app, now at version 3.3.2, does not bring any of the new Facebook Messages enhancements yet to mobile–that will come via a future update–but will help users manage their privacy settings.
Unfortunately though, privacy settings and controls still cannot be managed directly from within Facebook's iPhone app yet. By tapping on the account button, users are given the choice to access their Account Settings and Privacy Settings, and tapping on either option will re-direct users to a browser page from within the app to access those settings, which isn't nearly as nice of a user experience for mobile users as having those settings directly manageable via the app's user interface. When you're in the browser view, you do not have to log-on, and the screen will show a desktop-like view of what you'd see when you're managing your privacy settings from a PC.
Facebook's mobile implementation still lacks a lot of control compared to the browser version, such as the ability to delete wall posts.
Easily accessible privacy settings on the mobile app, however, is an important and good step. Facebook, which has been criticized by some with its vague policy on privacy and use of personal information and data through the site's social network, could leverage this to its advantage by easing users into trusting its new messaging system, which attempts to aggregate your emails, chats, and text messages into one location.
Facebook has been aggressive with targeting mobile. Having more privacy controls can also serve to help users adopt its check-in service as well.
Via: TUAW

As an Amazon Associate I earn from qualifying purchases.