Facebook For Windows Phone Beta Ditches Metro UI
Microsoft wants anyone who isn't afraid of being a guinea pig and want new Facebook features on their Windows Phone to test the beta version of Facebook for WIndows Phone.
Facebook for Windows Phone Beta adds Facebook features like high-resolution photos and Timeline that iOS and Android users already have, but Windows Phones users were previously missing; Chat Heads didn't seem to make the cut.
To bring such features to Windows Phone the team behind the app had to do away with the Metro design of the original Facebook for Windows Phone app that has a more panoramic layout.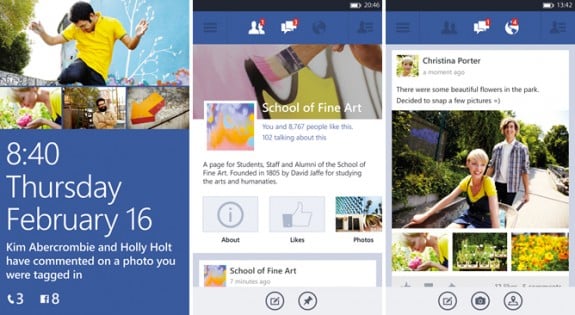 The new Facebook for Windows Phone Beta looks very similar to the iPhone and Android versions of Facebook. It has the same menu bar across the top with the Facebook notification jewels, a drawer to the left with view options and a drawer on the right that shows what friends are online.
While it looks similar to other Facebook apps, the flat design is still distinctly Windows Phone, even without the Metro design. The one bit of the Metro UI it does keep is the menu bar at the bottom with options to post a status update, photo or check-in.
The beta app also includes a new lockscreen view that presents a number of photos along with the date and time in the distinctive Facebook font and blue background.
Microsoft just asks that users who download the beta of the new Facebook for Windows Phone do their part to make the app better. Users can pass along bug reports, feature requests and any other feedback in the Settings menu of the app, under "About."
Users interested in the beta can download it at this link. If for whatever reason the beta experience becomes unstable, users won't have to live without Facebook as the current version will remain on their phone.

As an Amazon Associate I earn from qualifying purchases.