Facebook Home for iOS a Closer Reality Thanks to Jailbreak Tweak
While Facebook brought the essence of its new Facebook Home UI and app launcher experience from Android to iOS through a Facebook app update that brought the Chat Heads messaging GUI to iPhone and iPad users within the Facebook app, all remaining traces of Home are left behind once users exit the iOS app. Now, thanks to the latest jailbreak tweak, jailbroken iPhone and iPad users who desire to have an omnipresent Chat Heads experience no matter what app they're in or wherever they're at in Apple's mobile iOS operating system can finally make this a reality.
And though the jailbreak tweaks frees up your messaging Chat Heads to anywhere you're at in iOS, the hack does not enable all the features of Facebook Home found on the Android version or embedded within the HTC First smartphone out of the box. This means you don't get a combined lock screen and home screen that gives you all your friends' latest status updates, wall posts, and picture uploads.

The tweak is being developed by developer Adam Bell. Currently, the tweak isn't yet available for the public to download, but it should be soon within the next few days through the jailbroken Cydia app store according to The Verge.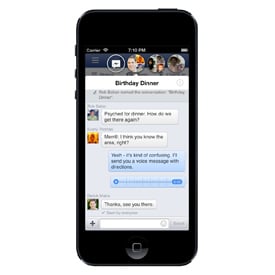 It's unclear if Apple and Facebook will work out a partnership in the future to allow Chat Heads to freely float around on iOS outside the Facebook app. The social networking giant has not been shy in the past about wanting to expand this endeavor to the iPhone and Microsoft's Windows Phone ecosystems, both of which are closed platforms when compared to Google's Android OS. Facebook says that if it can get some variant of Home to these platforms, the experience and look may be completely different than on Android, and it may not even be called Home at that point, but at this point it's still wishful thinking considering how tight of a leash Microsoft and Apple keep on their respective mobile OSes.