Facebook iPhone App Update Plagues Users, Is a Huge Step Back
Facebook updated its iPhone and Android app late last week with a big update that turned the iPhone version to 10.0, arriving with a wealth of new features, like previewing your posts before you publish them, publishing posts even when you don't have a solid internet connection, and various other performance improvements to the News Feed.
However, the update isn't all gold and roses. In fact, this latest update has been plaguing a ton of users on iPhone with frequent crashes. Just taking a quick survey of the team at Gotta Be Mobile, many of us that have iPhone 5s devices are seeing the Facebook app crash very frequently, and some of us are even seeing the app crash every single time when we start it up, making it impossible to use.
The update seems to be working fine on older iPhones, though, but we're definitely not alone when we say that iPhone 5s users are having issues with the app as well.
We haven't heard from Facebook as far as whether or not they're aware of the issue and when they might fix it, but the app is currently useless on a lot of iPhones right now.
Furthermore, some users are even reporting that they're having issues downloading the update in the first place. One users says that the update freezes while updating in the App Store and then disappears completely when the user reboots their iPhone, with no way of accessing it, even from the App Store.
It seems that may be an isolated issue and is not affecting tons of users, since we couldn't find more cases of the same thing happening, but the app crashes are certainly affecting a lot of users, especially those using the iPhone 5s. And it's also not the first time that this has happened.
Furthermore, one of the most biggest annoyances of the new Facebook update besides the constant crashing is the relocation of the "Most Recent" button. This button has allowed users to view the most recent News Feed items rather than just the most popular stories over the past hour or so. Frankly, I always tap on "Most Recent" to see an actual timeline of posts that have gone up since the last time I opened up the app, but now that's harder to achieve.
Instead of "Most Recent" being placed at the top of the News Feed where you can easily access and tap on it, it's now located deep within the settings menu. Users must tap on the More button in the Facebook app, then scroll down to the Feeds section and tap on the grey Feeds header to expand it out. From there, you'll have to tap on Most Recent to view the most recent posts in chronological order, with the newest posts appearing first.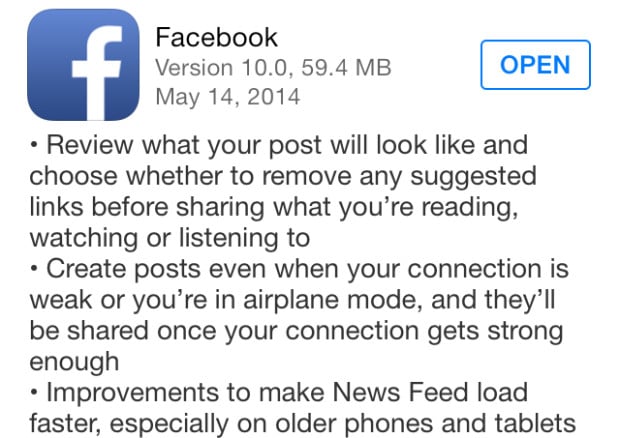 Many users thought this was a bug or a problem with the latest update, but it's, in fact, a new "feature" that Facebook thought its users would love (or, if not love, would be an annoying change that Facebook likes to make every now and then).
It's certainly very annoying, but we're guessing it's Facebook's way of showing off its algorithm prowess and telling users that showing just the most popular stories is the way to go. It's also probably a clever trick to get more ad dollars by showing more ads in the most popular section, rather than the most recent News Feed items. Facebook has been all about the ads lately, so we wouldn't be surprised if that was a deciding factor.
We can't say we're too surprised, though. It's certainly annoying, but this isn't anything new from Facebook. The company has gotten rid of several popular features (or introduced new features and have purposely not included some features) in the past in favor of giving their advertisers more face time with users.
However, if you can't stand the new placement of the Most Recent button, or if you're having crash problems with the Facebook app and can't access it, we'd recommend using the web interface in Safari. it works rather well, and you'll still have easy access to the Most Recent button so that you can actually see the most recent posts from friends in your News Feed.
Other than that, you can try deleting the Facebook app from your iPhone and completely re-installing it from the App Store, but some users have said that it still hasn't worked for them, so your mileage may vary greatly. Hopefully Facebook gets around to releasing a fix (and maybe making the app better overall for its users while they're at it), but we've noticed the iOS app getting worse and worse with every update. Hopefully the social network can turn things around.

This article may contain affiliate links. Click here for more details.