Facebook Messenger Adds Free Audio Calls for all Facebook Users
After recently adding group messaging capabilities to its Messenger app, Facebook has now added free audio calls. Facebook users who have the Messenger app installed on either iOS or Android can call other Facebook users for free, even if they live in a different country.
The new Audio calling feature shows up on the menu bar next to the recipients name in the chat window. Tapping on that phone icon will immediately call that user. The interface is nearly identical to iOS 7's default calling interface, so users should be familiar with the concept right off the bat.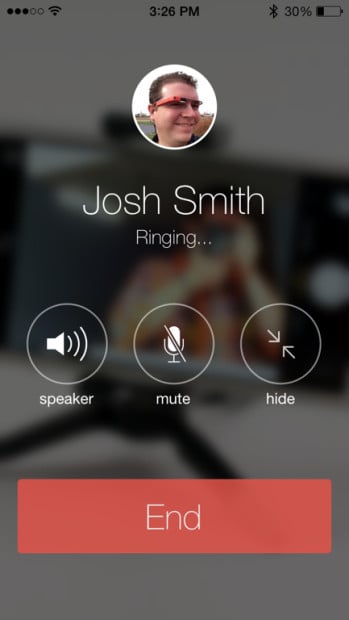 Facebook Messenger is available for both iOS and Android devices, and the update is available now in the iTunes App Store and Google Play, respectively.
Different options include toggling speakerphone, muting your microphone, and hiding the call window to take you back to the chat window, which means you can continue to send text-based messages to the Facebook user that you're calling. Users can also go back to the home screen and switch between other apps while remaining on the call, which is a great feature for those who can't talk and surf at the same time.
Read: 3 Reasons You Should Use Facebook Messenger
This update is a big one for Facebook users, as the new audio calling feature can essentially replace traditional calling. Of course, you'll need a WiFi connection or a data connection in order to make free audio calls in Facebook Messenger, but you can usually get a decent signal in most areas in the US without a problem.
However, it's quite interesting that Facebook introduced audio calling in its Messenger app, seeing as how the company was rumored to bring audio calling to WhatsApp as well, which Facebook bought recently for quite a bit of cash.
Nonetheless, audio calling for Facebook mobile users is a good deal, and while we've heard that both sides of a call need to have the Messenger app installed, we've confirmed that that's not entirely true; we were able to successfully call someone who only had the regular Facebook app installed on his new HTC One M8.

As an Amazon Associate I earn from qualifying purchases.