Facebook Messenger Bringing Free Voice Calling To iPhones in The U.S.
Facebook is rolling out free voice calls to iPhone users with Facebook Messenger in the U.S. according to The Verge.
Facebook recently began testing free voice calling in the Facebook Messenger app in Canada. That same update brought voice messages to users in other countries. Now U.S Facebook users can soon try the voice call feature themselves.
The new feature will come to users in the U.S. automatically, without the need for an app update. That means users won't know when they have the feature until they check for it.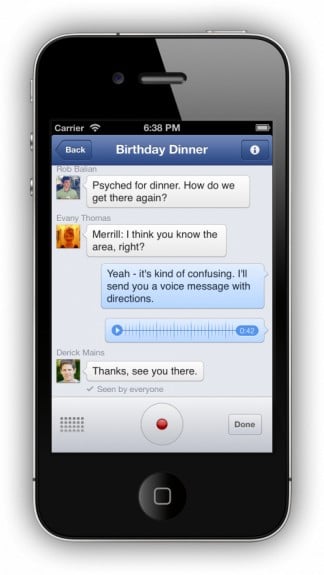 Users can call their Facebook friends via Messenger by tapping the "i" icon in the top right corner of a conversation with a friend. If users have access to the feature an option to call the friend for free will show up. The person receiving the call will receive a push notification saying their friend is calling them.
VoIP calling like Facebook is now implementing is great for users who don't have great reception in their home but do have access to Wi-Fi. It makes it easier for them to talk to friends without worrying about dropped calls, and it saves on voice minute usage. When used over 3G or 4G VoIP does use data, however, which users will have to keep track of.
So far Facebook VoIP calling only works through the Facebook Messenger app for iPhone in the U.S. and Canada. There's no word from Facebook on if the feature will come to the Android Facebook Messenger app, other mobile platforms or the Facebook desktop site.
If Facebook does roll out VoIP calling to all of its users it could compete with other services like Skype and Vonage which also offer free VoIP calling. Facebook has a larger number of users than both services, though its apps don't support video calling like Skype does. Facebook does offer Skype video calling through its website, however.

As an Amazon Associate I earn from qualifying purchases.