Facebook Messenger iPad App Is Finally Here
After being out on iPhone, Android and Windows Phone for several months, Facebook Messenger for iPad is now available to download from iTunes.
The app received an update late last week that adds universal support for all iOS devices, so the same app will work on both iPhone and iPad natively, rather than having a separate iPad app.
Technically, iPad users could still use the Facebook Messenger app for iPhone, but they would have stretch the UI out on the larger screen of Apple's tablet. However, no need to make due with just an iPhone version, as the new iPad version sports a two-pane user interface with the contact list on the left side and the conversation window on the right side — similar to how the iPad Messages app looks.
Most of the features in the iPhone version seemed to have carried over to the iPad version as well, although video calling doesn't appear to be enabled for the iPad app. However, sticker packs and voice calling are available, allowing you to call your Facebook friends without needing an actual phone.
Other than that, the updated version of Facebook Messenger now includes the ability to have videos you shoot in Messenger be saved to your phone's camera roll, and there are also the usual bin of bug fixes and performance improvements made to the app to make it run smoother.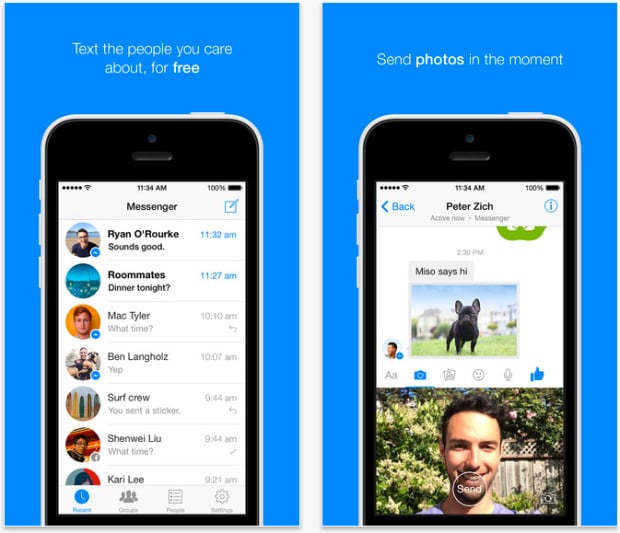 We've praised Facebook Messenger in the past for being an easy-to-use solution for chatting with Facebook friends on the go, and it's a lot better than using the website's chat features, which are a little buggy at best. Plus, the app combines Facebook Chat and Messages, which oddly remain separate in a way on the social network's web interface.
While you can only use Facebook Chat when on a computer, Facebook Messenger extends that capability to mobile devices, allowing to chat with Facebook friends while you're away from a computer and on the go. This is especially helpful if you want to continue a conversation, but need to head out for some reason (or the other person needs to relocate).
One thing that makes Facebook Messenger great is the user interface; it's simple, clean and easy to use. The same really can't be said for the web interface. It seems like Facebook changes constantly every few months, and consistency is hard to come by when using the Facebook website. Plus, the separation between Facebook Chat and the Messages platform can be confusing for a lot of users.
Of course, typing is a lot easier on a full-size keyboard, so the web interface is perfect for those wanting a full keyboard, but the ability to be mobile while still being able to chat with Facebook friends is a huge benefit to have.
Facebook Messenger is a lot like other IM apps out on the market, like Google Hangouts, Yahoo Messenger, etc. The best part about these apps is that you can use them to replace traditional text messaging, as long as your closest friends use these apps too. If you have Facebook friends that you chat with constantly, it saves you from paying for extra text messaging from your carrier.
Of course, most cellular plans nowadays come with unlimited text messaging, so most users won't be nailed with overages if they text too much, but since Facebook Messenger sends chats and messages over WiFi or 3G/LTE, it's much faster and more reliable at sending and receiving messages than traditional text messaging.
Facebook Messenger is a free download and it's available now for iPhone, iPod Touch, and iPad in the iTunes App Store.

This article may contain affiliate links. Click here for more details.