Facebook Messenger iPhone App Updated with Snapchat Video Feature
Facebook Messenger has received a generous update in the form of instant 15-second videos that you can record and immediately send to your Facebook friends.
This feature is an expansion of previous Facebook Messenger updates that allowed users to instantly send photos and even record audio messages and send them instantly to Facebook Friends, as well as place free audio calls to other Facebook users who have the Messenger app installed, whether it's on Android or iPhone.
This new feature set is a lot like how Snapchat works, where users can quickly take a photo or record a video and send it to another user in a matter of seconds. However, Facebook Messenger stands out in the fact that photos and videos don't self-destruct after they're viewed; Snapchat only gives users up to 10 seconds to view a photo or video.
What's perhaps a bit curious about this latest update is the timing of it surrounding Facebook's Snapchat clone app called Slingshot. If you're not aware, Facebook launched its Slingshot app in the App Store a few days ago, but quickly pulled it for unknown reasons. Perhaps it was mistakingly launched too early?
In any case, this update to Facebook Messenger doesn't replace Slingshot by any means, and it seems that the upcoming app is still planning to launch at some point in the future, as it will have exclusive features that Facebook Messenger won't have.
In any case, on top of the addition of 15-second videos, Facebook Messenger has also added "Big Likes." You probably already know about the big thumbs up symbol that you can send to Facebook friends in the app, but now you can press and hold that button to send an even bigger thumbs up, for those times when you really, really like something that they send you.
It's kind of unnecessary for the most part, but we suppose it's something that a lot of users will have fun with.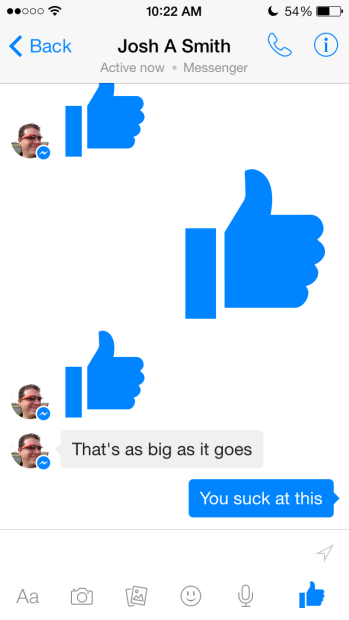 We discussed in the past about how awesome Facebook Messenger is, as it's one of the best-looking messaging apps we've used and comes with a wide variety of features without seeming too overbearing to most users.
Plus, Facebook Messenger makes for an excellent text message replacement. It's a lot like other IM apps out on the market, like Google Hangouts, Yahoo Messenger, etc, and the best part about these apps is that you can use them to replace traditional text messaging. If you have Facebook friends that you chat with constantly, it saves you from paying for extra text messaging from your carrier, which can get expensive really quick.
Of course, most cellular plans nowadays come with unlimited text messaging, so most users won't be nailed with overages if they text too much, but since Facebook Messenger sends chats and messages over WiFi or 3G/LTE, it's much faster at sending and receiving messages than traditional text messaging, and sending photos and videos over Facebook Messenger won't take forever like a traditional cellular signal would.
Read: How to Download Facebook Messenger
Facebook Messenger is simple, clean and easy to use. The same really can't be said for the web interface. It seems like Facebook's design changes constantly every few months, and consistency is hard to come by when using the Facebook website. Plus, the separation between Facebook Chat and the Messages platform can be confusing for a lot of users. Facebook Messenger simply combines both platforms to make it easier to use.
Facebook Chat on the web is also full of bugs. Plenty of times I'll mark a message as read, but it still shows up as unread whenever I come back to Facebook later on. I've never had this issue on the mobile app, and I've never come across any kind of bug on the app in the first place, making it a great app to use without building a lot of aggravation.