Facebook Messenger Redesigned for Mobile
Nearly two years after first launch, Facebook just recently begun issuing some small updates to its popular Messenger application for Android and iOS, but this week they've announced and started rolling out a brand new redesigned app.
A few weeks ago they announced the new system would arrive, and now it's finally here. Bringing a brand new faster, smoother, lightweight application for Android and iOS. Over the past 24 hours Facebook finally launched the new version in the Play Store and it's now rolling out to all users. Promising a faster and overall better messaging service on mobile devices, allowing users to connect to friends and family with ease.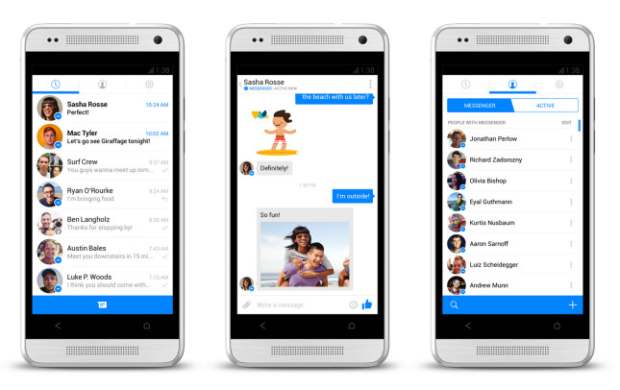 Detailed this afternoon in a blog post, Facebook also confirmed the update should be arriving for iOS, although we're expecting the redesign to differ from what you see above on Android. The messenger can now sync to your contacts like never before, and even let mobile users message people from their phone contact list, even if you aren't friends on Facebook.
The new Blue messenger icon will let you know when friends and family are online, and when using the app, so you'll be able to connect faster than ever before for a quick conversation. Overall the new design is quite smooth, although the sound effects may irritate some and can be easily disabled in the settings menu.
Read: How to Enable Social Integration in iOS 7
Finally following the Holo design UI guidelines by Google, the Android application has a sleek new look and feel. Allowing users to tap the columns up top, or a simple swipe between messages, contacts, and settings. Then of course we still have Chat Heads, which can be enabled or disabled, as well as controlled so they won't cover current applications on your device.
This is definetaly the best Facebook Messenger yet, and hopefully similar changes arrive for the regular Facebook app too. Get it now from the Play Store.

This article may contain affiliate links. Click here for more details.