Facebook Paper a Flipboardish Magazine Coming Feb 3
There has been recent talk about Facebook coming up with different Apps to try and keep its audience engaged at a time where many are starting to write down the Facebook experience by saying that users, especially younger ones, are leaving Facebook for other alternatives. The first new App from Facebook, called Paper, is a Flipboardish magazine App for iOS that displays news from your feed as well as other sources, and it is due to hit on February 3. Facebook is hyping the launch of Paper with a series of interviews around the web that show off the features.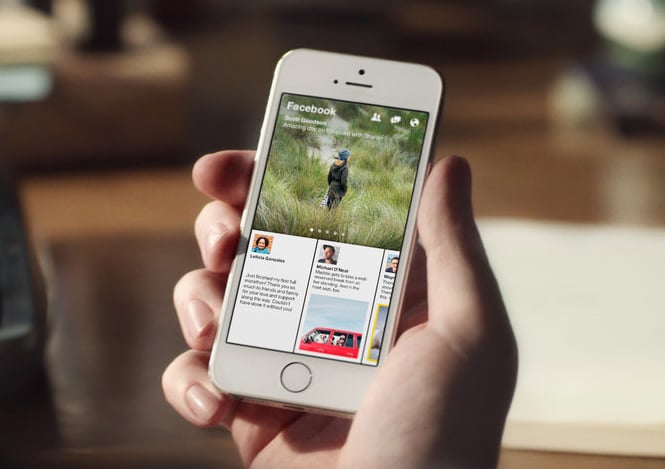 Facebook Paper will allow you to view items in its magazine format similar to Flipboard and other Apps by scrolling or swiping through those stories. Reading through these early preview articles about the new App there seems to be a consensus that those who have access think this might replace the original cluttered Facebook App experience for some. Facebook recently hired a series of editors to help curate content with this obviously in mind. The App will have several sections (news, sports, etc…) and a section that will feature content around one big story of the day. While some stories will surface via algorithms that rely on Likes and Shares, some content will be selected by these editors.
https://vimeo.com/85421325
Facebook says Paper won't have advertisting initially, but it is not hard to see how that will follow. Flipboard seems to have succeeded in finding a successful advertising format for its App and given the visual metaphor similarities it is not hard to image what we'll see in Paper in the future.
Gestures will be the form of navigation with less of a reliance on buttons and there is a new compose screen so you can create posts directly from Paper, again leading to some thought that they might replace the current Facebook App experience for some. From the video and descriptions I've been reading Paper looks like it will appeal to the set of Facebook users who might check their feed once a day or so, although the real key will be to see how the curated mix works with Facebook's algorithm to bring your friends content into the mix.

As an Amazon Associate I earn from qualifying purchases.