Facebook Slingshot iPhone App Is a Snapchat Clone
Facebook launched a new app called Slingshot, that takes the basic idea of Snapchat and adds a bit of a twist to it.
Slingshot allows users to quickly and instantly send photos or short video clips to other users, but the catch is that users cannot see what another user sent them without sending another photo or video back to them. This essentially means that the app is just one vicious circle with no end to the image-based conversation, but we suppose that's how Facebook intended it to be.
Plus, just like Snapchat, users can take a photo and then draw or type on the photo to add a little bit more fun to the app.
To start, you can send a photo or video to a friend, or open one that a friend sent you. However, before you can open it, you have to send a photo or video of your own back to them. You can also send a "reaction" to their photo or video, where you can view their photo/video on the top half of the screen, while your camera is on the bottom half of the screen. After you take a photo or record a video, it will send instantly to the other user.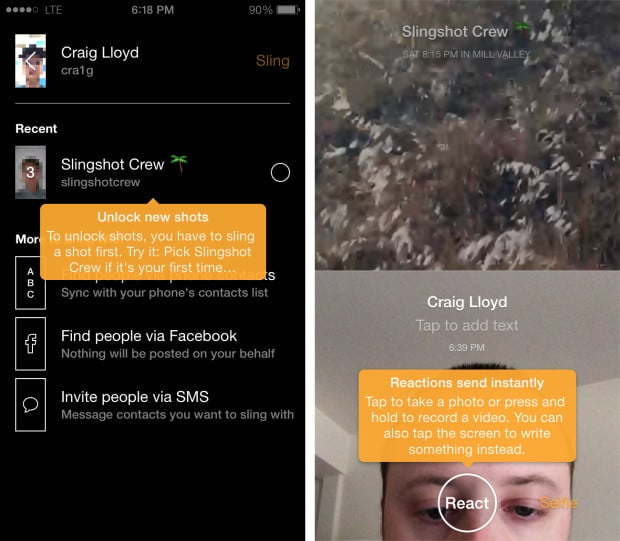 It's an interesting concept and one that could easily catch on, but there are a few barriers to entry that users should be aware of, most notably the surprisingly tedious sign up process.
First off, Slingshot doesn't fully integrate with other Facebook apps, including the regular Facebook app and Facebook Messenger. Instead, you have to enter in your phone number and create a user name before you can begin using Slingshot. The only integration with Facebook is the ability to connect the app with Facebook in order to find other friends who use Slingshot.
It's a bit interesting how the app doesn't let you login using your Facebook credentials and it doesn't integrate with Facebook Messenger at all, although Messenger does have Snapchat-like features of its own. Slingshot is an entirely separate app, and you wouldn't even know it was a Facebook-branded app in the first place, seeing as how there's little branding in the app and the user interface is a lot different than what you would expect from a Facebook app.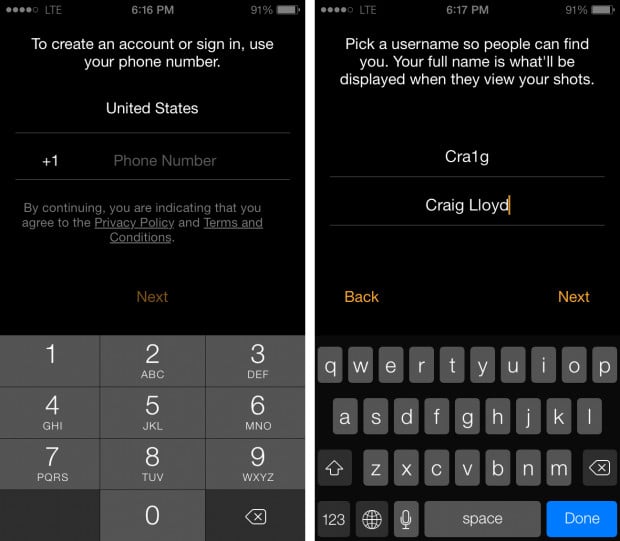 Despite these odd setbacks, Slingshot is at least worth checking out since it's a free app in the iTunes App Store. However, Snapchat may still be the go-to app for users who are into instant photo and video conversations. It's been around longer and has a larger user base right now. Plus, Snapchat allows you to send text messages as well, which adds a bit more to the conversation than Slingshot would.
Furthermore, Snapchat even comes with video chatting, thanks to a recent update to the app not too long ago. Users who are actively using the app at the same time can instantly begin a video chat by holding down the in-app shutter button.
The cool thing about the live video chatting in Snapchat is that it removes a lot of the friction that comes with traditional video chatting apps. Usually, you have to call someone and wait for them to pick up before you can actually start video chatting, but with Snapchat, all you have to do is tap on the shutter button (which turns blue when you're both on the app) and start video chatting right away, with no lag between calling and answering video calls.
It's possible Facebook's Slingshot will grow over the next few months with more features, but Snapchat still takes the cake amongst most users who want instant video and photo sharing.

This article may contain affiliate links. Click here for more details.