Facebook Unveils Mobile Inspired News Feed
Today at an event in its Menlo Park, California headquarters Facebook showed off its new News Feed that will soon come to smartphones, tablets and desktops.
The new News Feed is almost a complete redesign that takes a lot of cues from the current mobile design. The new News Feed is cleaner and less cluttered, focusing more on the content that friends and family share.
In the new News Feed photos are larger across all devices now, with a new mosaic view to show multiple photos. News articles will show preview longer than just the headline in the News Feed, giving users a better sense of what they are. The new design also highlight locations so users get a better idea of where their friends went.
https://youtu.be/YaQQHYQHnMk
If multiple friends share the same thing, the new News Feed will group them together like the current version does. The new design simplifies the group, however. Instead of grouping all of the posts in one box the new News Feed will show the story or video with the icons of all the friends that shared it. Clicking on a user's icon will show what they said about the story.
To make the News Feed easier to browse Facebook will let users customize the feeds they want to view at any given time. For example users can select the "Friends" feed to see just what their friends said or shared on the social network. A Following feed can show updates from all the people and pages users follow and liked.
Facebook will automatically arrange the feeds in the option list based on which ones users use most. So users who consistently decide to see only their friends feed will have that feed moved to the top of the list.
In addition to showing information from pages that users liked, the new News Feed will also display information about them. An example given during the presentation was a user who's a big fan of Justin Timberlake. When that user enters their music feed it will populate with stories about Timberlake and other information like photos of the artists as he prepared for the Grammys.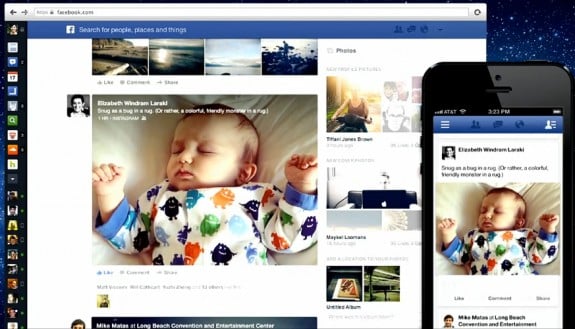 The goal of the new Facebook News Feed is to get Facebook out of the way as much as possible, and the design seems to achieve that goal.
Interested users can sign up for the waiting list for the new News Feed at this website. The layout will come to desktop users first, with the mobile version rolling out to the iPad, iPhone and Android devices in the coming weeks.