FaceTime on iPod touch may use email address to route calls
In an exclusive, BGR reports that an email address may be used as the identifier in making FaceTime calls to and from the next iPod touch, which is believed will include a front-facing camera.
Their screenshots show a FaceTime account setup screen in the Settings menu that allows a user to choose an email address, and apparently even multiple addresses, with which a FaceTime call can be initiated. BGR states this will register your "Apple ID" with the device, though it's unclear what exactly that "Apple ID" is. Some commenters have expressed concern it's their ID used in iTunes, which can be shared. More likely the ID is tied to that specific device to prevent calls from being routed to multiple devices.
I suspect we'll see an initial boom of users setting up dedicated email accounts for FaceTime so they can regulate the people who can call them. Perhaps Apple will even offer facetime.com addresses for this purpose as they've already gone through the trouble of buying the trademark from the previous holder.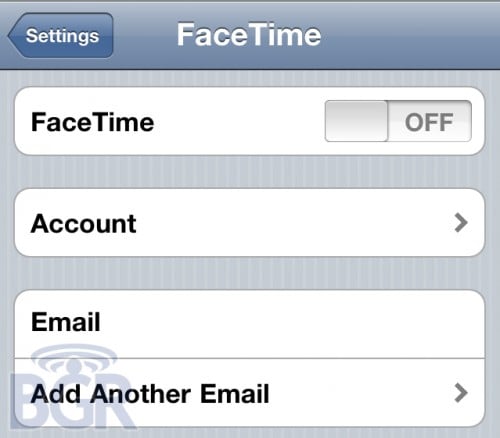 Regarding my previous take on FaceTime on the next iPod touch, I stand by my assessment that it would not happen without requiring some additional account, like we see here with the "Account" button. That said, I obviously did not give Apple enough credit as they acted on this more quickly than I thought they would. It's also unclear how this move will affect their attempt to negotiate iPhone FaceTime support from carriers. If they don't offer a concession, such as having FaceTime count as minutes (FaceTime minutes are tracked in your call records), it may be limited to Wi-Fi for the time being.
BGR also mentions they're not certain how an iPod touch would initiate a call since it cannot call a phone number, but I see no reason why it cannot be done through Contacts using the FaceTime button there. Likewise, the iPod touch could include a dedicated FaceTime button, much like it has dedicated music and video buttons. Receiving a call should be handled via push notification.

As an Amazon Associate I earn from qualifying purchases.