Fake Apple Stores in China Take Knockoffs to Another Level
It looks like the Smart Cover knockoffs that a company associated with Samsung aren't the only thing Apple's lawyers should be looking into. This bit of KIRF (pointed out by Bird Abroad) is so egregious, it makes a Chinese eBay store look like a model for originality and innovation. This revolutionary bit of clonery: fake Apple Stores that are popping up in China.
These stores are recreated in astonishing detail. From employees with blue t-shirts and name tags hanging around their necks to the glowing Apple logo hovering above the entrance, this store is a spitting image of the stores we're used to in the states and elsewhere.
Winding staircases? Check:
iDevices on display at wooden tables? Yep: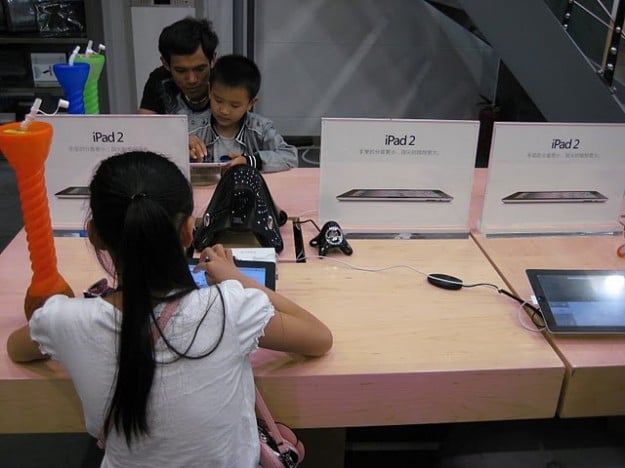 Hipster employees, casually leaning against a table to give you a sense of personal connection? Oh yeah:
The shots were taken by an American living abroad in China. The stores are in the town of Kunming, and there are apparently several similar stores in the area.
Perhaps the best part of all of this, though, is that the employees think that they actually work for Apple! The clone job is done so perfectly that the staff doesn't even have to play the part -they're living it! Apparently they never questioned why such a large corporation would deliver their pay in small, unmarked bills – but such is the life when you're "working for Apple."
While outrage is likely the reaction many will have to this (particularly Apple's legal team), we have to admire such a religiously-meticulous knockoff job. Such scrutiny deserves consideration for an Academy Award – you know, in set design and casting.
Enjoy more pictures below, and let us know what you think in the comments.
via iFoAppleStore and PcMag