Fake Instagram Windows Phone App Teases Users
Instagram is finally available in the Windows Phone Store, though users can't actually download the app because it's a fake.
WP Central first spotted the fake app, which went live in the Windows Phone Store yesterday. The app screenshots show a Metro-influenced design for the service which looks nothing like Instagram apps on other platforms. There's just one problem: the screenshots are from a mockup a designer made a year ago.
The fake Instagram app looks legitimate in almost every aspect, except that users can't download it. After hitting the install button the Windows Phone Store a dialog box appears telling the user they can't download the app.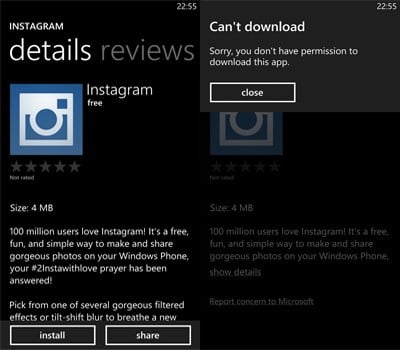 The app likely appeared in the store as a closed beta to trick people into thinking the app was finally available on Windows Phone 7 and Windows Phone 8. Because the app appeared on March 31, it was likely an April Fools' Day joke someone decided to play on the Windows Phone community.
Jokes aside, Windows Phone users are still patiently or impatiently waiting for Instagram to come to their phones. Nokia itself recently tried its hand at convincing Instagram to make a Windows Phone 8 app with its #2InstaWithLove campaign. The app includes a Lumia-exclusive app that lets users take filtered photos and post them to social networks with Nokia's chosen hashtag.
Recent rumors claim Microsoft is in the process of building an Instagram app for Windows Phone. The company just needs Instagram's approval to use its API which will let the app upload photos to the service. Instagram isn't too open with its API, however, only a few apps outside of Instagram (like Hipstamatic) can post photos to the service.
Sadly, it looks like Windows Phone users will still have to wait to use the Facebook-owned photo sharing service, though it isn't for lack of trying.

As an Amazon Associate I earn from qualifying purchases.