10 Fallout 4 Deals That End Soon
The Fallout 4 release date is less than a week away and that means that several deals, bonuses and contests are about to end. Here, we outline some of the Fallout 4 deals that you should have on your radar as we approach November 10th.
In June, Bethesda confirmed the Fallout 4 release date for November 10th. The date applies to the Xbox One, PS4 and the PC and it's one of the more highly anticipated release dates of the year. After all, this is the first major Fallout release since Fallout New Vegas back in 2010.
With a Fallout 4 release date close, we're going to see many of the Fallout 4 deals and bonuses that have been around for several weeks and in some cases, several months, come to an end. These deals, bonuses and contests offer free gear, games, and other perks to buyers ahead of the game's release.
Today, we want to roundup all of these deals, bonuses and contests into one place so that you can decide which one is right for you. If you don't pre-order Fallout 4 ahead of its release date, you'll still have access to deals, but the best ones probably won't come until Black Friday or 2016.
Fallout 4 Deal from Dell
Dell's Fallout 4 deal will net you a $25 promo eGift card and free release date delivery but you have to order the game by the end of the day if you want to get the game right when it comes out.
The retailers $25 bonus should stick it out all the way through November 10th though we expect the deal to evaporate sometime around the Fallout 4 release date. It won't be around forever.
This deal is available for Fallout 4 on Xbox One, PS4 and PC and it's worth a look if you're planning on buying more games this holiday season.
Best Buy Fallout 4 Deals Adds $10 in Rewards
Best Buy's 20% Fallout 4 deal for Gamers Club Unlocked members is a static offer but the $10 in rewards to pre-orderers is not.
If you pre-order Fallout 4 from Best Buy, you'll lock down $10 in rewards. If you do a lot of shopping at Best Buy, $10 in rewards for pre-ordering is a nice little bonus.
Note: Best Buy is also offering a Fallout 4 Gold Bundle that will save you a few bucks and net you the game, a Season Pass and a pair of socks. We're not sure how long the bundle will be around for.
Microsoft Fallout 4 Deal
If you pre-order Fallout 4 from Microsoft, you'll get $10 to spend on the Microsoft Store. If you do your shopping through Microsoft, this is an offer that you might not want to pass up.
Best of all, if you pre-order by 10AM PST on November 6, you'll get the game the day it's released. You'll have to act fast though because November 6th is just a couple of days away.
PS4 Fallout 4 Bonus from Sony
If you pre-order Fallout 4 for PS4 through Sony, you'll get a nice pre-order bonus.
Bethesda and Sony have teamed up to deliver a Fallout 4 Garage Theme to use with the PS4. The theme can be seen in the video above.
Steam Fallout 4 Bonus
If you pre-order the PC version of Fallout 4 from Steam, you'll get a Fallout 4 Announcer Pack for Dota 2, starring Mister Handy. The bonus will apply to all orders placed during the month of November so you have a few weeks to decide.
Steam says that the the "Dota 2 Fallout 4 Announcer Pack will replace the Default announcer and Mega-Kills announcer with the voice of everyone's favorite robotic butler, Mister Handy."
The pack is expected to become available by mid-November, shortly after the game's release date on November 10th.
Amazon Fallout 4 Deal
If you're an Amazon Prime user, you can knock about $10 off the price of the game dropping it down to $50. That's one of the best pre-release details out there for Xbox One and PS4 so it's a deal worth considering.
Vault-Tec Poster Bonus
If you pre-order the physical version of Fallout 4 for Xbox One, PS4 or PC, you'll get a free Vault-Tec poster inside your order.
The poster outlines the perks that you'll be choosing for your character inside the game and it's a nice free addition to early orders.
Those that pre-order the digital version of the game will not get the poster.
Fallout 3 Bonus
If you pre-order the Xbox One version of Fallout 4, you'll get a free copy of Fallout 3 for Xbox 360. You don't need a Xbox 360 to play it though.
Microsoft will unleash its backwards compatibility later this month and that will allow gamers to play Fallout 3 on Xbox One. Fallout 3 will become available for Xbox One on November 12th, or, two days after the Fallout 4 release date.
Countdown to Fallout 4
Bethesda's Countdown to Fallout 4 contest is almost over. The company will be giving away one more prize next week and it's arguably the best prize yet.
If you sign up for the company's newsletter, you'll enter yourself into the contest. And by entering yourself into the contest, you'll become eligible to win $500 towards the Bethesda Store. You could put that towards a copy of the game or any of the other items on the company's store.
The last drawing is on November 9th though so you better get on it soon.
Enter the Vault Sweepstakes
The company's Enter the Vault sweepstakes ends next week as well. If you want an added bonus to your Fallout 4 pre-order, you'll want to enter this contest.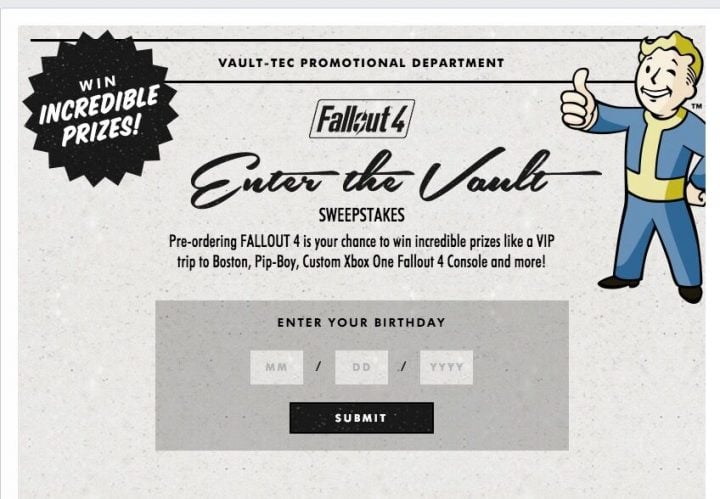 If you enter, you'll become eligible to win a free trip to Boston, a Pip Boy or some nice looking Fallout collectibles. It's the last remaining way to acquire a Pip Boy for free so it's worth a look if you've been in the hunt for one ahead of the release date.
Fallout 4 Release Date: 11 Things to Know With a Week to Go
Fallout 4 Deals Still Available
The first thing you need to know with one week to go is that there are still some very tempting Fallout 4 deals out there.
Dell is offering Fallout 4 (with free release date delivery) if you order by November 4th. The company is throwing in a $25 Dell Promo eGift Card with the purchase which you could put towards another game this holiday season.
Dell isn't the only one offering a Fallout 4 deal. Best Buy is offering two Fallout 4 deals for Xbox One, PS4 and PC including one that will net My Best Buy members some extra cash.
Microsoft is offering a $10 Xbox gift code and free release date delivery if you order by 10AM on November 6th.
Amazon is also offering a deal to Prime members that shaves some bucks off the price tag. Some users on Reddit are reporting double/triple discounts from Amazon but it's not clear if those discounts are going to hold up ahead of the game's release date.
While you shouldn't expect any Fallout 4 Pip Boy Edition deals (except maybe at Best Buy) to emerge, you should be able to save some money on the regular version of the game.

This article may contain affiliate links. Click here for more details.